Apple's darkly funny new iPhone 14 commercial highlights life-saving iOS 16 feature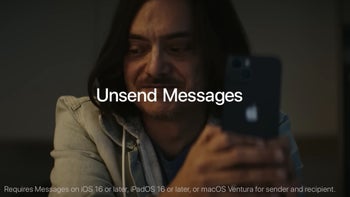 Whether you personally like the iPhone 14 family or not, there's no denying
Apple
has done as solid a job as ever advertising its latest handsets and emphasizing their unique (and even not-so-unique) selling points in the last few months.
The newest ad is even shorter and nowhere near as "action-focused", taking its time instead to highlight the utility of a single iPhone 14 series feature with the kind of dark humor you wouldn't normally expect from an Apple commercial.
While being able to "unsend" a text message will obviously not bring your dead lizard back to life, having this option on iOS 16 can potentially save you from a world of trouble if said reptilian pet actually proves to be alive and well.
If you have no idea what we're talking about there... you should have probably watched the video embedded above before you continued reading this text. All caught up? Then you may want to know that "Undo Send" is not an iPhone 14-exclusive thing, working on any and all devices running iOS 16 (or iPadOS 16, or macOS Ventura) in the very simple and intuitive way described in
this little PhoneArena article from last month
.
Action Mode, on the other hand,
is
something you can only find on the iPhone 14, 14 Plus, 14 Pro, and 14 Pro Max, and it's evidently so important for Apple that there's another new ad focusing specifically on it after the aforementioned wider-reaching "Chase" commercial and
a shot-on-iPhone 14 Pro video
designed expressly to "test" the extreme stabilization technology out in the real world.
This new video also does an exquisite job of showcasing the real-life applicability of the feature, even though it (probably) doesn't contain any footage actually captured with an
iPhone 14
.