Windows Phone 7 Rundown
5

On Monday, October 11th, Microsoft is planning to launch a totally new mobile OS to a great fanfare, via gala events in
New York and London
. This is a pivotal moment for one of the world's most known brands, which popularized computing as we know it, and made its founder the richest person in the world in the process. Now Bill Gates is no longer very active at Microsoft, and the company risks being elbowed out of the next big thing in computing. With a bit over one billion PCs, but
more than five billion
cell phone subscriptions in the world, the battle is now
for the mobile space
. People are increasingly doing stuff they used to do on Windows machines, like accessing the Internet or playing games, on their mobile phones and tablets. Companies like Google and Apple managed to completely circumvent Microsoft's ecosystem in the span of just few years with Android and the iPhone, for the most common tasks. This forced the Redmond giant to completely rethink its mobile strategy, and start creating a mobile OS of its own from scratch, in order to replace its aging Windows Mobile.
Windows Phone 7 was conceived with strict requirements towards the hardware chassis it will be available on. One of them is a candybar form factor, with or without slide-out QWERTY keyboard, a large capacitive touchscreen, at least 1GHz chipset, and 5MP camera with flash, and a physical camera button. The rest of the minimum requirements demand each Windows Phone 7 device to feature at least 256MB of RAM, and 8GB of internal memory, GPS, ambient light, proximity and accelerometer sensors. The handsets are also required to sport three physical buttons - Start, Search and Back. The other known chassis for Windows Phone 7 is for
QWERTY candybar handsets
, similar to RIM's BlackBerry, presumably for the corporate world.
With those strict minimum requirements, Microsoft is hoping to avoid the Android fragmentation, which sees Google's mobile OS on a confusing number of devices, all with different form factors and specs, and to guarantee a more cohesive user experience.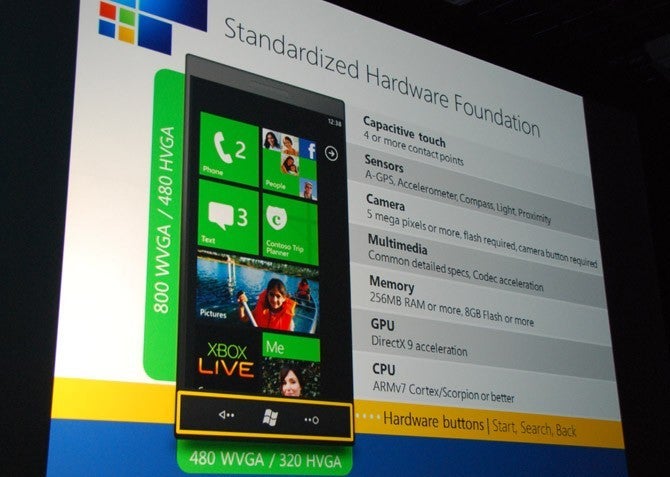 Windows Phone 7 hardware requirements. Photo - Long Zheng
The user interface of Windows Phone 7 is using a concept called "Metro", inspired by the clear and streamlined signage at airports and subway systems. Microsoft was aiming for simple, minimalistic user interface, and seamless integration of functions within the operating system, straying away from the existing homescreens-and-menu-with-app-icons paradigm.
That is why the user interface is centered around the so-called data "hubs" with specialized information, accessible via "tiles" on the start screen, which are updated in real time. The People hub, for example, pulls in all the information stored locally about someone, integrates it with everything from your online networks (Facebook, Twitter, Gmail), and presents it in a panorama view, where information is showed in one strip, and you swipe it left or right with your finger, if the content is bigger than one page of the phone's screen. Thus the user interface is made data-centric, instead of feature-centric, like on the iPhone or Android devices, where you click on an app icon for each different task. The same goes for the multimedia hub, the gaming hub, etc. It is quite a streamlined experience, and the first impressions have been mainly positive.
The other notable feature of Windows Phone 7 is the seamless integration of local and cloud-based information content. It aggregates all your photos, for example, regardless of the source - local, Picasa, Flickr, SkyDrive - in the multimedia hub. Local and web contacts are seamlessly merged together and special care is taken to avoid duplicates that would make for one very long list. This integration is especially well done if you are using the Microsoft ecosystem - Office Live, Hotmail, Exchange, SharePoint, Bing, Outlook, SkyDrive, Xbox Live, etc. Upon initial start, the phone quickly populates itself with the linked accounts information, similar to Android phones and their Google Services. A good overview of the Windows Phone 7 concept is presented in a Newsweek interview with Microsoft's Aaron Woodman, responsible for the consumer experience.
Apart from the traditionally excellent for Microsoft's devices integration with the tools of the corporate world, like Microsoft Office, SharePoint, Exchange, and so on, Windows Phone 7 offers tight interaction with its entertainment division, such as Xbox Live. Puzzles, arcades, racing titles, jump-and-run, action shooters, strategies – from Bejeweled to Halo, there is something for the hard-core and the casual gamer alike. The titles are tailored specifically to the mobile realities – controls can be with both touchscreen and QWERTY keyboard, if one is present. The games will also take full advantage of the smartphone platform – in Crackdown 2: Project Sunburst, for instance, levels can be created with Bing maps, and the possible access to your chosen location is quickly marked by the game on the real-world maps.
An interesting approach is taken to the content supply sources – the big names for the Xbox are certainly onboard, Microsoft's own Game Studio will be releasing titles adjusted specifically for mobile, and on top of that 3rd party indie developers will have access to Xbox Live. This is done to ensure steady supply of quality titles for a game catalog that will be updated on a weekly basis. With all bases covered, Microsoft is aiming at a flying start in the mobile gaming realm, counting certainly on the 25 million active Xbox Live subscribers to become potential clients for the smartphones with WP7.
The immersive experience is aided by the interactive avatars, which can also populate your phone apps, and represent you on the Xbox Live network. Demos, Friends, Messaging, Leaderboards, turn-based and later real-time multiplayer are all on offer to make the Xbox Live gaming hub for WP7 as close to the desktop version as possible.
Microsoft is wagering a big bet with Windows Phone 7. It has some quirks that need to be worked out - for example, copy&paste will be added after launch. You might have done everything right, and still fail if the applications that expand the functionality of your platform are not there. Imagine the possibilities brought to the iPhone thanks to its 250 000-strong application market. Without them, it would be just a cool device, but with the App Store it has become indispensable for some of its users. The same goes for Android. Apple and Google undoubtedly have a head start in mobile, and it will be very hard for Microsoft to catch up.
The Redmond giant seems to be pretty aware of that fact, and is not sparing resources to win
partner manufacturers
,
carriers
and
developers
, on its side. Just the development and launch of Windows Phone 7 are rumored to cost Microsoft a
cool one billion dollars
. Will that be enough to stop Google and Apple's march for world domination and to make WP7 devices desirable? Well, if the goal is to put a fly in the mobile honey pot, and simply fragment the market enough that no one player has the dominant position, the strategy might work, although Google is
quite successful
in doing that same thing with Android. We will certainly know more about Microsoft's plans
come Monday
.