Which smartwatch platform you consider most likely to prevail?
29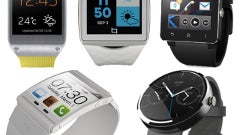 As if we weren't getting already dizzy enough with the
smorgasbord of smart watches and wearables
, unleashed on us at the CES and MWC expos this year, and now Google itself moved in, with
Android Wear
. Couple that with the persistent rumors about an incoming
Apple iWatch
, and we'll be in a rut what to choose as soon as the summer vacations are over.
Google's new Android Wear, on the other hand, already showcased some promising concepts, like the naughty
Moto 360
, or the
LG G Watch
. In addition, if the
monster leak on Apple's Healthbook app
, hints at just a smitten of the features coming with an eventual iWatch, that one might top them all, in terms of functionality. That's why we wanted to ask you, in light of the Android Wear gamechanger unveiling, which one do you think has the most potential for commercial success? Pick your choice in the poll below, and argue it in the comments.