Pebble Steel with leather band gets $20 price-drop, now on backorder for $229
9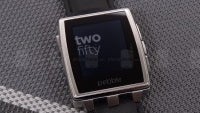 As the market changes, the playersrespond. The recent Samsung Galaxy Gear price cuts and the megatonAndroid Wear announcements might have pushed Pebble to take $20 offthe Pebble Steel. It's a well thought-out response, because Google's impressive announcement and the classy-looking Moto 360 will ensure that smart-watches are on people's minds for a few weeks ahead. It's just the right moment for Pebble to run a promotion and market some tick-tock stock with little loss.
The leather band version of the smart-watch can beyours for $229, while the steel band version sells for the regular$249. However, the former variant is now on backorder, while thelatter is listed as unavailable. Furthermore, the price drop iswelcome, but not especially seductive.
In related news, yesterday Pebbleupdated its firmware to version 2.0.2. It's a small update made tofix an issue some users experienced while installing the update. Ifyou haven't updated yet, open the Pebble 2.0 app and hit Support ->Check for updates.
source: SmartwatchFans