What would make a Nokia Lumia better than the Samsung Ativ S?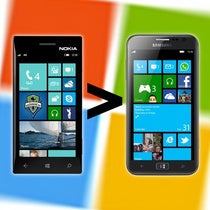 "Every great show needs a warm-up act."
– that is what Nokia's Doug Dawson confidently stated on Twitter soon after Samsung announced its Windows Phone 8 powered Ativ S smartphone. Bold words indeed, for they imply that the upcoming WP8 Nokia Lumia smartphones will somehow be better than what Samsung proudly unveiled on Wednesday. But is that really possible? After all, the
Samsung Ativ S
is a great-looking smartphone that packs some pretty potent hardware inside its 8.7-millimeter aluminum body. (Check out our
thorough specs review
for details.) With the risk of being bashed in the comments for saying it, we frankly believe that Nokia
does
have the potential to deliver a Lumia smarthpone that is superior to the Samsung Ativ S in more than one way. Please, don't scroll down just yet and allow us to tell you what would make a Lumia better than an Ativ S.
Huge ClearBlack screen with RGB pixel arrangement
ClearBlack technology
can do wonders, which is why the screen on the
Lumia 900
is considered
one of the best when it comes to outdoor visibility
. That is why a ClearBlack display of identical size and resolution would make smartphone fans pretty happy, but that is not all that can be improved. You see, the lack of a "Plus" after "AMOLED" indicates that the screen on the Ativ S uses a PenTile pixel arrangement. If Nokia manages to outfit its Windows Phone 8 flagship with a screen that uses a standard RGB matrix, then it will likely have the upper hand over Samsung's offering, at least in the display department.
Lots of bundled software
Nokia Reading
and
Nokia Transport
apps, the former being a hub where users can get books and magazines, and the latter being the company's tool that facilitates commuting using nothing but public transportation. And who knows, perhaps Nokia has even more exclusive surprises up its sleeve, but what they might be we'll learn next week.
Outstanding design
upcoming Nokia Lumia smartphones will look like
. Prototypes of various shapes and sizes
have been leaked
more than once, indicating that at least one of the next-gen handsets will retain the current Lumia design scheme and polycarbonate construction. To be honest, we don't know whether Nokia will manage to produce something that looks better than the Samsung Ativ S. We can only guess whether any of the new Lumias will be made out of premium materials, but at least we can safely assume that they will come in different colors, which would probably make them more appealing to the younger crowd.
Early launch and competitive pricing
The Samsung Ativ S was announced on Wednesday, but its launch date remains unclear. Therefore, Nokia still has the chance to be the first with a Windows Phone 8 handset on the market, as long as it acts swiftly. And that would be a big deal since early adopters will flock to Nokia's offerings, especially if they are priced reasonably. Speaking of pricing, Samsung has not disclosed how much the Ativ S will retail for, yet something tells us that both companies' WP8 high-ends will carry a pretty similar price tag, which will make the competition between them pretty fierce.