Alleged Nokia Windows Phone 8 handsets leak in jolly colors, one might be the midrange Arrow
21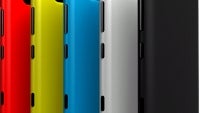 UPDATE:
Another alleged picture leaked, this time the person is claiming specifically that this is the Arrow, and the phone there is apparently going to be available in several colors, but looks different than the yellowish handset leaked from Hong Kong, which might be an entry level Nokia WP8, or a prototype. Check all pics in the slideshow below.
Now someone from the vast prairies of the Chinese microblogging services posted a teasing back pic of a yellowish handset with rounded cornersm captioning it with "Nokia WP8 new".
If this is indeed the real deal that will be unveiled next week, Nokia is obviously committing to the jolly polycarbonate designs its Lumia range is recognizable with, which ensures passing the torch from WP7 to WP8 without perplexing the potential users.
Let's not forget that the
Phi and the Arrow are rumored to appear on AT&T
, so we might be seeing the US-bound handset for the first time here. We'll be sure to let you know next week, when we are attending the big Nokia-Microsoft event Wednesday.