We don't need that hunk o' love: here are the current flagships that don't have a protruding camera
30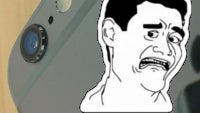 If you are one who only uses their smartphone camera for the very occasional social media share, and could care less about your Instagram portfolio, you are probably not a huge fan of the current trend of smartphone cameras being accompanied by a design balance-throwing bulge on the phone's chassis. Having a protruding sensor is definitely not a new thing – handsets have been getting thinner, while manufacturers have been persistently trying to make their snappers better – but the topic became hotter than ever a few months ago, when Apple unveiled its
iPhone 6
and
6 Plus
handsets.
The reason why it caused an uproar (and a number of videos and messages poking fun at it, both from users and competitive manufacturers) is most probably a complex one, but we'd wager that the main ingredients involve – users being shocked that a company, so highly acclaimed for its product designs, would allow for such a disbalance in its newest smartphone; Apple initially photoshopping the bump
out of its promo materials
; and the fact that, while other competitors try to mask the bulge, by building a gradual hill around it, the iPhone 6 has a ring, directly slapped over the camera sensor, making it stick out more than usual.
Of course, the camera hunks are not as bad as the Internet makes them out to be – especially if a protective case, which usually wraps around it and makes it flush, is involved. Still, it may be just that we've learned to live with them for now. The fact remains that phones with protruding cameras do not sit even, when placed on a table, and will keep some users paranoid about the safety of the sensor's glass.
So, if you are not a big fan of a phone's back having a camera-housing dune, fear not – there are plenty of flagships out there that prefer to keep a flush back. Here they are:
The G3 is a pretty impressive handset all around – it was the first worldwide-available phone with a QHD screen, it has packed its 5.5" display in a very screen-to-body efficient chassis, its laser-assisted autofocus makes picture snapping fast, and its interface was flat before it was cool. Its camera has a 13 MP sensor, which sits flush to the body like it's nobody's business.
The DROID Turbo was launched at the end of October, 2014, as a Verizon-exclusive. It is jam-packed with the most powerful hardware available at the time, and holds a 3,900 mAh battery for some extreme longevity. Its 20.7 megapixel camera is nicely ducked inside a metal ring, which sits almost flush to the body.
Of course, Motorola's widely-available, highly-customizable flagship – the Moto X – also falls in our little list. The phone sports a 13 MP snapper, surrounded by Motorola's proprietary "flash ring", yet it still does not stick out. Well, its body is 0.39" thick, so there was room to jam the sensor in properly.
The One is a user-favorite for sure. Maybe it's the metal unibody, maybe its the loud BoomSound front-facing stereo speakers, or it's the snappy interface. Most likely – a mixture of all. Now, HTC went with its proprietary UltraPixel tech for the snapper in the One (M8), which resulted in a camera that
we found
disappointing. Still, it's well hidden behind the back shell's outer lines, and the phone's design appears balanced all around.
Another fan-favorite, which struck the right notes where it needed – the Xperia Z3 was
fairly well-received
. It improved on the stereo speakers of the
Z2
and sports an easier-to-handle form factor, while its glass-on-metal build oozes premium feel. The 0.29-inch handset's back is completely flush, even though it houses a 20.7 MP sensor. To be completely fair – Z3 users have reported a
pink blotch issue
with their handsets, which many speculate is caused by their decision to pack the sensor flush to the body, instead of giving it some room and going the protruding way.
The 6-inch monster of a phablet that Google decided to showcase its newest Android build on – the Nexus 6 is loaded with cutting-edge hardware, 1440 x 2560 AMOLED screen, 3,220 mAh battery, and a 13 MP camera, which stays put inside the confines of the rear panel. To be fair – the handset is 0.40 inches thick (at the thickest point), so avoiding a back lump was probably not only welcome, but also – more easily achievable.
The Lumia 930 (a.k.a.
Lumia Icon
for Verizon) is still bravely holding the "Windows flagship" spot, even though it's starting to age a bit – between the Nokia acquisition, and prepping Windows 10 for launch, Microsoft seems to have postponed refreshing its top-shelf line. Still, while it's SoC is not cutting-edge, the Snapdragon 800 is still a pretty capable unit. The handset is equipped with a 20 MP PureView camera and its 0.39" body doesn't let any of it stick out.
The Honor 6 Plus sports not one, but two 8 MP sensors for its rear-camera, which work both towards capturing more light for the images, and providing depth-of-field effects. The phone is a build-up on the already existing
Honor 6
, adding a larger 5.5" display, toting the newest Kirin 925 SoC chip, and packing a 3,600 mAh battery. Despite the fact that its body is 0.28" thin, the camera's sensors do not need a bulge to be housed in.
Meizu's newest flagship totes the same impressive design as the
MX4
, with a screen-to-body ratio of 74.53%, which makes the phone surprisingly manageable for a 5.5" display-equipped handset. It sports an octa-core Samsung-made CPU, 3 GB of RAM, a 3,550 mAh battery, and a Sony-made 20.7 MP sensor for its camera. Does it stick out of the 0.35" body? Nope.
Yes, Oppo did release the
N3
a few months ago, but we'd consider it more of a niche device, than a flagship. Meanwhile, the Find 7 may be in need of a refresh, but it still packs a potent punch, and it's still considered Oppo's "flagship". So, powered by a Snapdragon 801, 3 GB of RAM, and toting a 5.5" QHD display, this 0.36" thick handset has a 13 MP sensor under the hood – and we mean "under" as in "not sticking out".
Of course we are going to go there. Whether OnePlus is a subsidiary of Oppo is still up in the air (both companies deny it), but the fact remains that the OnePlus One bears a striking resemblance to the Find 7. And as such – its 13 MP sensor is tucked behind the body's limits as well.
Xiaomi didn't miss to make fun of the iPhone's protruding camera in its own... slightly weird way. Apparently, trying to flatten the hump of an iPhone 6, by hitting it, with a frying pan no less, results in the phone magically turning into a Xiaomi Mi Note, at least according to
this commercial
.
Weird jabs aside, the Mi Note does look gorgeous, and its 13 MP camera is, indeed, flush. Sporting a Snapdragon 801 SoC, it will not appease the fans of bleeding-edge tech, but fear not – that's why the 64-bit SD810-equipped
Mi Note Pro
is in the pipeline.