WSJ: Sprint to officially cut ties with LightSquared on Friday, to return $65 million
4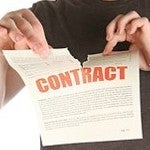 The 15 year contract between Sprint and LightSquared
will be officially terminated on Friday
according to a report in the Wall Street Journal., As part of the termination, Sprint will return $65 million in pre-payments to the wholesale carrier. The duo
had signed the contract last summer
, but when the
FCC vowed to block LightSquared from operating its LTE pipeline
, Sprint had no choice. Earlier this month, rumors started spreading that the carrier
would no longer give LightSquared another chance
. Originally, Sprint gave LightSquared until the end of last year to get FCC approval and
extended that through the middle of March
. Just last month,
LightSquared failed to make a payment on a $56 million note
held by
British satellite partner Inmarsat, and laid off 45% of its workers.
LightSquared, financially backed by Philip Falcone and his
Harbinger Capital Partners hedge fund
, planned on using satellite wireless airwaves to build out a ground-based 4G LTE network, which would offer service to 260 million Americans by 2016. It was discovered that LightSquared's technology
was causing interference with nearby GPS signal
s including
those involved in military operations
.
No matter what LightSquared tried, it could not stop the interference
. The wholesale LTE carrier tried to
prove that there was a bias in the testing
, but failed to get the FCC to budge.
Now LightSquared will have to look elsewhere for the major partner it needs to put up the 40,000 towers it needs to compete with other U.S. carriers offering LTE service. Friday is the
final day for public comments to be filed on the FCC decision
not to allow LightSquared's network to operate and the company said it would submit papers in its defense on Friday. According to an insider, the 150 page document will cover the question of bias with the outside testing, the history of previous regulatory rulings and other pertinent matters.
LightSquared's lenders had until the end of Thursday to
extend the company's network-sharing and operations contract with Sprint
until this June. There was no word on what the lenders decided on doing. LightSquared had previously said that the contract would save it $15 billion through the end of the decade. There is still the question of the vulture investors who have
poured money into LightSquared's deeply discounted debt
for pennies on the dollar, hoping to have a say in the restructuring of the company if it goes through bankrupt.
source:
WSJ