Vodafone bringing back the recharge truck, adds hand scanners
1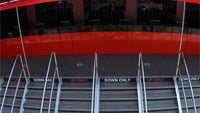 Last year Vodafone rolled its VIP Recharge Truck around to various UK festivals to keep attendees' mobile device charged throughout the entire event. The rig has the power to charge 2,000 mobile devices at once and this year Vodafone is adding some new security features.
The updated truck features DJ booths and hand scanners to keep devices safe and make sure they are returned to the right hands. The hand scanners use a biometric scanner that can map the pattern of the blood vessels under your hand. Last year they used photos of the owner and barcoded wristbands. Since wristbands got lost during the event and photo recognition was left up to the judgment of the staff member, Vodafone is employing the infrared Palm Vein Readers to make the operation foolproof and, best off all, quicker and easier to return devices back to customers.
Vodafone says they have a charger on hand for just about every device imaginable and will be making an appearance at bunch of summer festivals this year. Check out the time-lapse video below to see the Vodafone VIP Recharge Truck build out.