Verizon MAP list shows 5 inch HTC DLX to be called HTC DROID DNA
45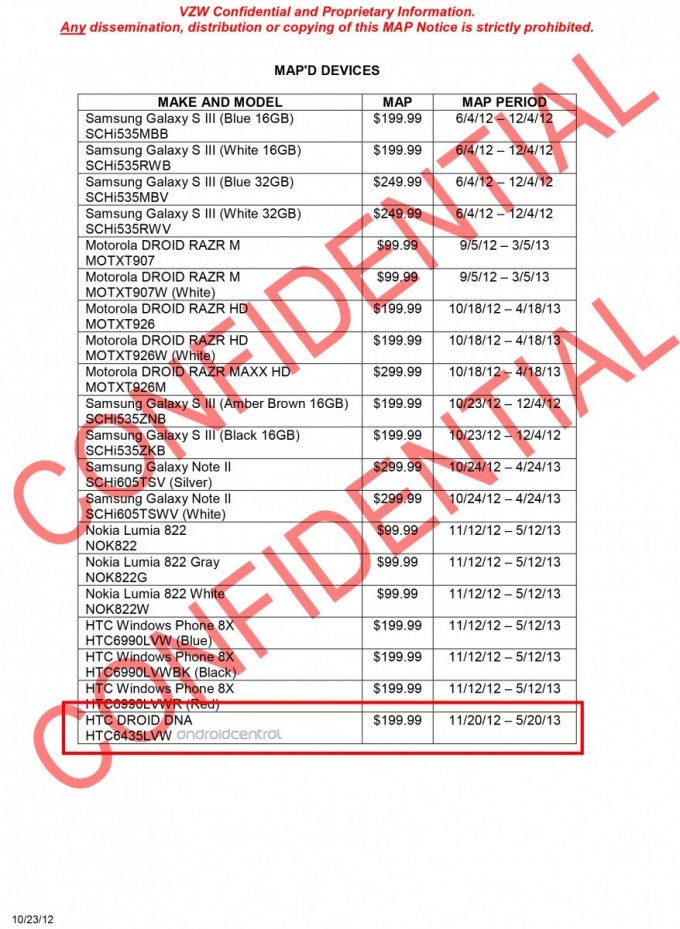 Verizon's MAP list is a treasure trove of information
Verizon's minimum advertised price list lays out the lowest price that Verizon will allow a third party reseller to advertise a device for. It allows Big Red to have some control over resellers pricing decisions. The MAP list is also a
good source of information
and
in the past it has revealed launch dates and pricing information
. Now, Verizon's latest MAP list gives us the name that Big Red will be calling one of its most eagerly awaited devices.
We've seen the HTC 6435LVW go from a
rumored device
to an actual phone ready to be launched. We also have seen the name of the device go from the HTC DIx (Droid Incredible X) to the
HTC DLX
(pronounced Deluxe) to the latest moniker courtesy of Verizon's MAP list. According to a leaked copy of the list, the 5 inch phablet from HTC will be known as the
HTC DROID DNA
. The MAP price, which is often the actual two-year contract price, is $199.99 and a possible November 20th launch date dovetails with earlier word that the phablet would launch around Thanksgiving. Last month,
we called the device the first DROID phablet
.
Also on the MAP list we can see that the
Samsung GALAXY Note II
appears ready to launch today in silver or black, at a price of $299.99 with a two-year pact. No surprise there. In addition, we can see a couple of Windows Phone 8 models including the
HTC Windows Phone 8X
. Just the other day we showed you
the phone being tested on the Verizon network
. According to the MAP, that phone will be available in blue, black or red at $199.99 on contract, starting November 12th. The
Nokia Lumia 822
apparently will also launch on Verizon the same day in grey or white for $99.99.
It also looks like the
Samsung Galaxy S III
will soon be available in different colors, Amber Brown and Black. Just remember that the MAP list isn't supposed to reveal pricing and launch dates of future devices although it has done a good job at predicting these in the past.
source:
AndroidCentral