The 'symmetrical' Note 7 design might be precisely why its batteries were failing
37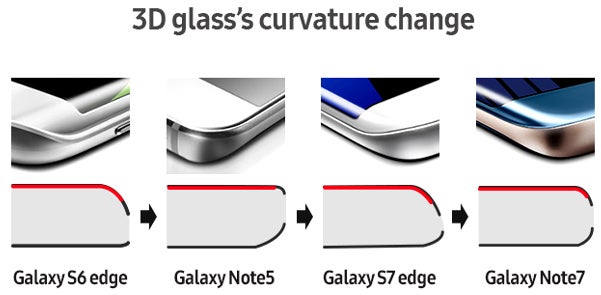 Samsung made the Note 7 with the steepest edge curve it's ever done
The
Note 7
employs a lot of "firsts" for Samsung when it comes to the design, but these might be precisely the reason it is catching on fire, and had to be recalled twice now. For instance, Samsung employs the toughest 7000 series aluminum alloy for the frame and the sides - that would make it 1.3 times stronger and 1.2 times more scratch-resistant than the metal which is used for the Galaxy S7. Moreover, in order to leave the widest amount of flat space for the S Pen to draw on, Samsung employed a rare
3D thermoforming
process, producing the steepest "edge" sloping of a curved display it's ever done, as you can see in the drawings here. Not only that, but Samsung bragged that the design is now absolutely "symmetrical," as the glass backplate is sloping towards the metal frame with the same curvature as the display at the front.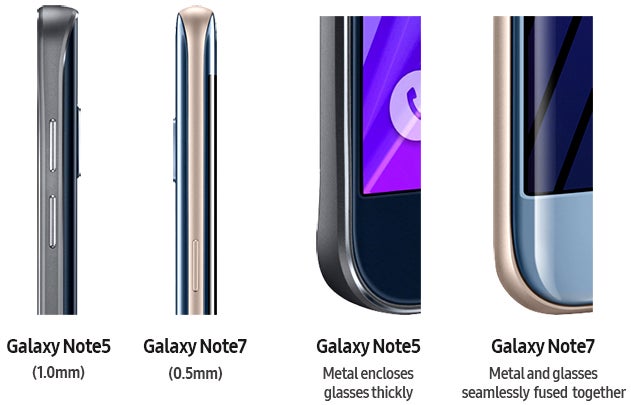 Note 7's 'symmetrical' design might be the culprit behind the unorthodox battery plates pressure
The steep glass curve makes the device the narrowest Note ever, even when compared to the first 5.3" one, and the narrowest phone with a 5.7" display, but it also might be precisely why the phone is combusting out of the blue. During the first recall, leaked docs from the Korean consumer protection agency showed that the battery packs
made by Samsung's own SDI subsidiary
were slightly larger for their compartment by a hair, and the isolation plates that separate the anode and cathode inside were too close towards the edges, hence prone to collapsing under pressure, short circuiting the battery, and causing thermal runaway. They also found issues with the packaging of the battery cells, like the insulating tape, which was
done by a separate company
, as well as the coating of the negative electrode.
While these issues taken separately might not produce the spontaneous combustion that the Note 7 is prone to, in aggregate they present a dangerous combo, especially if there was pressure applied on the isolation plates. Where would that pressure come from? Well, one of the theories seems to be that the culprit is precisely the steepest edge curve Samsung has ever done. The plates are apparently situated towards the edge of the battery, and, when sealing the waterproof phone tight, the pack might be subjected to a pressure that is higher than normal at the wrong end. Coupled with the production faults in the battery packs themselves, this could explain the first recall.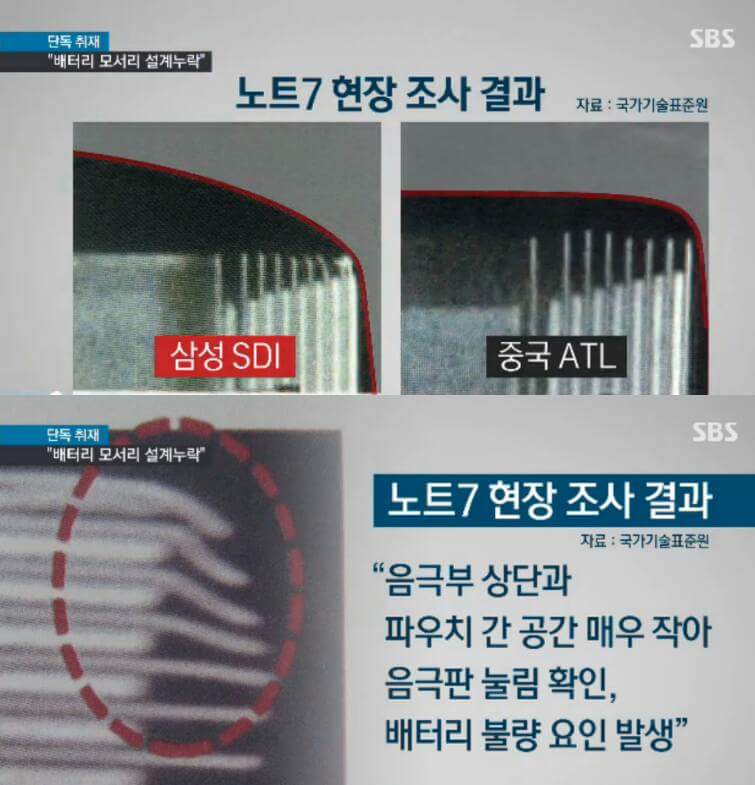 Note 7 battery X-ray shows SDI-made packs with isolation plates too close towards the edge
The second recall is a bit of a mystery, though. While leaked info shows that it is allegedly still a battery issue (duh), the replacement packs were reportedly
produced entirely by ATL
, hence they shouldn't have sizing, isolation plate, insulation, or negative electrode coating issues. The eventual abnormal pressure from the steeply curved sides remains, though, and that could be the design flaw that ate the Note 7's head. That, or a faulty voltage controller design, or the three weeks timeframe in which Samsung acknowledged the problem, and rushed ATL to produce
hundreds of thousands of spare batteries for quick replacement
. Well, as the jail writing says, those who are ahead of their time should wait for it at the designated places. In the case of the Note 7, it might very well be in the dustbin of electronics' history.
Recommended Stories