Samsung: 500,000 new Galaxy Note 7 units arrive in the states
36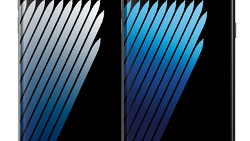 Those waiting to exchange their potentially dangerous
Samsung Galaxy Note 7
, or the temporary replacement they received, will be happy to hear that Samsung has shipped 500,000 units of the 'safe' Samsung Galaxy Note 7 into the U.S. Older Galaxy Note 7 units ticketed for a return to Samsung are having trouble catching a ride. FedEx and UPS refuse to ship the models that might be carrying a defective battery for obvious reasons.
We're not privy to how Samsung is dividing up these units. We did receive a tip from a PhoneArena reader today, who claimed to have chatted with a rep for T-Mobile. During the conversation, the T-Mobile rep said that new Samsung Galaxy Note 7 units were in stock starting today.
Reportedly, one million Galaxy Note 7 phablets were rung up in the U.S. before the recall. Now, our math skills aren't what they used to be, but that would seem to indicate that you have a 50-50 shot of being able to have a 'safe' Samsung Galaxy Note 7 sent your way at this time. The box containing the new phones will carry a black square. The unit itself
will have a green battery indicator
as opposed to the white icon seen on the original models.
"Working hand in hand with the CPSC, we are delivering as promised and moving quickly to educate consumers about the recall and make new Note7s available. New devices will be in stores no later than tomorrow and we will continue to take the necessary actions to ensure users are powering down and immediately exchanging recalled devices."-Tim Baxter, president, Samsung Electronics America
source: Samsung