The best selfie phone: Desire EYE vs Note 4 vs iPhone 6 vs LG G3 vs Xperia Z3 vs Galaxy S5 vs One M8
57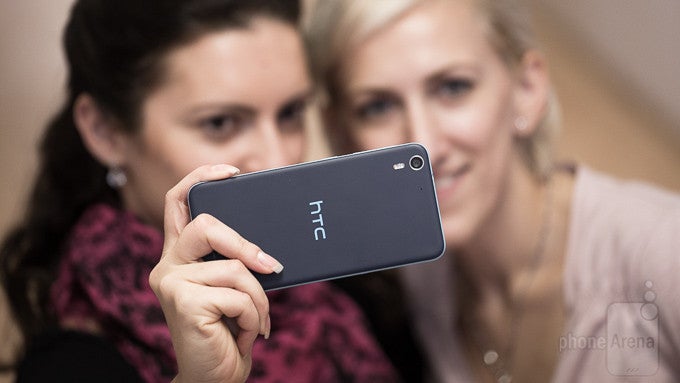 #Selfie
While the self-portrait predates all of us by several centuries, its modern incarnation, the selfie, is, by some accounts, barely a decade or so old. The word "selfie" has been traced all the way back to a forum post from 2002, and it wasn't until 2004 that anybody, reportedly, made use of #selfie (on Flickr). Obviously, the origins of the word are still up for debate, but the important part is that the selfie culture has gone mainstream – at least mainstream enough for the Oxford Dictionaries to not only note a whopping 17,000% spike in usage between 2012 and 2013, but to also formally recognize it as the "international Word of the Year 2013".
According to Instagram, users have used #selfie 57 million times to tag their photos as of November 2013
When we published our first front-facing camera comparison back in the beginning of this year, we noted that mainstream manufacturers, while paying attention, are not exactly committed as far as selfie cameras are concerned. We can't say that an overwhelming change of landscape took place since, but we're definitely seeing more and more consideration being given to a category that might just end up as a compelling selling point for a certain demographic. Just look at HTC and its all-new Desire EYE, with its 13-megapixel front-facing camera with dual LED flash! The 5-megapixel shooter of its definitive 2014 flagship, the One M8, is also not at all lacking, and Samsung, too, took a step forward by incorporating an unusually high-res, 3.7-megapixel front cam with the Note 4.
Of course, camera resolution is far from a defining attribute when it comes to the overall quality of a snap, and front-facing cams are no exception (though more pixels here are definitely comparatively more welcome). To that end, for the purposes of this selfie camera comparison, we'll be looking at a number of variables (like exposure, color reproduction, detail) and then combine the scores into a singular value that represents the performance of each of our seven contestants. Get to know them by examining the table below.
| | | | |
| --- | --- | --- | --- |
| | Resolution | Video | Features |
| HTC Desire EYE | 13MP | 1080p@23fps | Beauty shot, Dual camera, Face detection, Voice shutter, Effects, HDR, Anti-shake, Backlight, Lens blur, slow-mo video |
| Galaxy Note 4 | 3.7MP | 1440p@30fps | Beauty shot, Burst shot, Dual camera/Dual video recording, Selfie panorama, Sound & Shot, Voice shutter, |
| iPhone 6 | 1.2MP | 720p@30fps | Burst shot, Face detection, Effects |
| LG G3 | 2.1MP | 1080p@29fps | Beauty face, Burst shot, Dual camera/Dual video recording, Voice shutter |
| Xperia Z3 | 2.2MP | 1080p@29fps | Beauty shot, Burst shot, Dual camera, Smile shutter, Image stabilization, HDR, Sound Photo, AR effects, |
| Galaxy S5 | 2.1MP | 1080p@29fps | Beauty shot, Face detection, Dual camera, Best shot, Burst shot, Image stabilization, Voice shutter, Effects |
| HTC One M8 | 5MP | 1080p@25fps | Beauty shot, Dual camera, Face detection, Voice shutter, Effects, HDR |
Did your homework? Good, let's do this then!
Outdoor selfies: daytime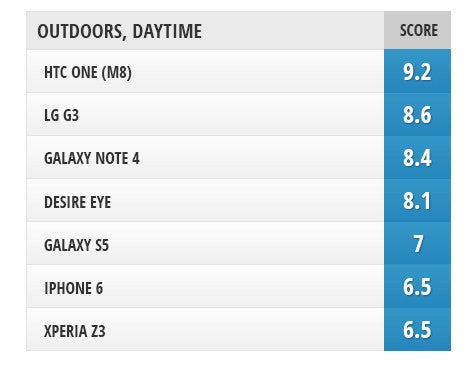 Let's start with an easy scenario – outdoor selfies during the day when there's abundant light.
The front-facing shooters of all our contestants capture well-exposed stills with minimal error for the most part, along with sufficient detail. It's not all fine and dandy, though. For example, the Desire EYE captures richly-detailed photos, but color reproduction leaves something to be desired on the whole – overly-red skin tones are an almost inescapable reality. Indeed, the EYE is outdone by another HTC device – the One M8 – which consistently netted the best results outdoors in our experience, with natural color reproduction, plentiful detail, and correct exposure. Also offering great performance across the board is the LG G3, which proves a tad better than the Note 4 thanks to the slightly more natural skin tones it delivers.
On the other end of the spectrum is the Galaxy S5's 2.1-megapixel selfie cam, which has a whole myriad of problems, including severe issues with focus, a tad too high levels of noise, and slightly washed-out colors. Thankfully for Samsung, the iPhone 6 and Xperia Z3 fared even worse: Cupertino's flagship insisted on a sickly-yellow skin tone that is altogether off-putting, while Sony's darling is almost exclusively held back by the nasty purple tinge it introduces to selfies.
Outdoor selfies: nighttime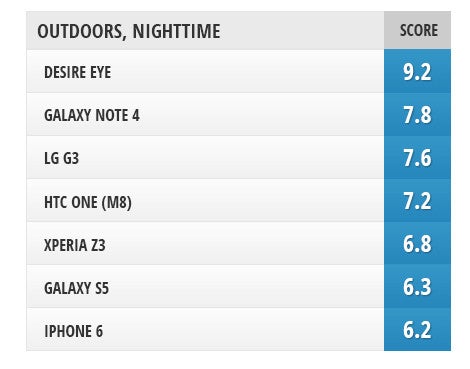 So what about if we go to the other extreme and force these tiny cams to perform in the harsh conditions of nighttime? This being a tough category for even the best of rear-facing shooters, we obviously had to lower our expectations and expect disappointment – after all, with the exception of the Desire EYE, every other phone on the list lacks a front-facing LED flash, and it's got two of them.
As you can imagine, this gives HTC's selfie-centric device a very clear and well-deserved advantage, as it makes selfies in previously-unfeasible scenarios possible. This wins the EYE the first spot on our ranking in this category, but keep in mind that it's not flawless. For example, sometimes you're better off turning the flash off, as the camera software algorithms aren't sophisticated enough to factor in for bright sources of light in the far background.
Second and third on our list are the Note 4 and the LG G3, the second of which handles bright light sources during the night quite poorly. Last on the list, again, sit the Xperia Z3, the Galaxy S5, and the iPhone 6, respectively. Quite frankly, the iPhone handles color reproduction surprisingly well in such challenging conditions, but its teeny-tiny sensor just cannot capture enough light, handicapping the resulting photos in the process.
Indoor selfies: medium and low light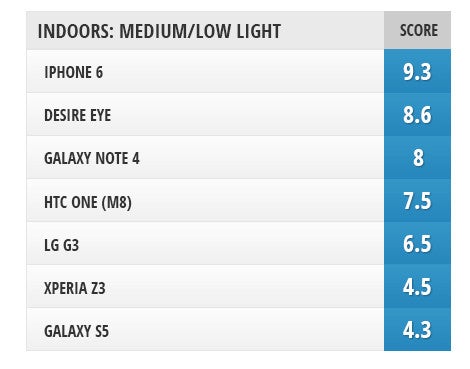 After freezing our behinds off, we thought it's time we went inside for the next part of our examination – performance in limited and very low light conditions. It meant a clean slate for all our contestants and another shot at proving what they're made of. We're happy to note that several of them took that the opportunity to shine.
The prime example here is the iPhone 6, which, despite its poor outdoors showing in terms of color reproduction, feels right at home indoors. Indeed, Apple's new flagship impressed with spot-on color reproduction in both decently- and poorly-lit environments, earning itself a sizable lead specifically in the latter scenario.
The HTC Desire EYE proved to be the runner-up – its shooter, too, offers natural colors and its flash is a welcome side-kick in some scenarios (though we prefer to keep it off in others). As before, the amount of detail offered by its 13 megs is second to none.
The Note 4 and the One M8 landed next, with the former disappointing a bit after its overall encouraging performance so far. Still, the overall pale colors of the Note 4's selfies were preferable to the sometimes overpowering artifacts plugged in by the One M8 at the corner of images. Were it not for its dreadfully-soft low light and color-incorrect selfies, the G3 would have had a better chance landing near the aforementioned two, but, alas, that is not the case.
Lastly, based on the images the Xperia Z3 and the Galaxy S5 produced, it should be no surprise to see them finish last – the Z3 again has critical problems with color reproduction, while the Galaxy S5 continues to struggle with what are, objectively, two of its camera's defining "features": washed-out colors and impotent focus.
Field of view and its importance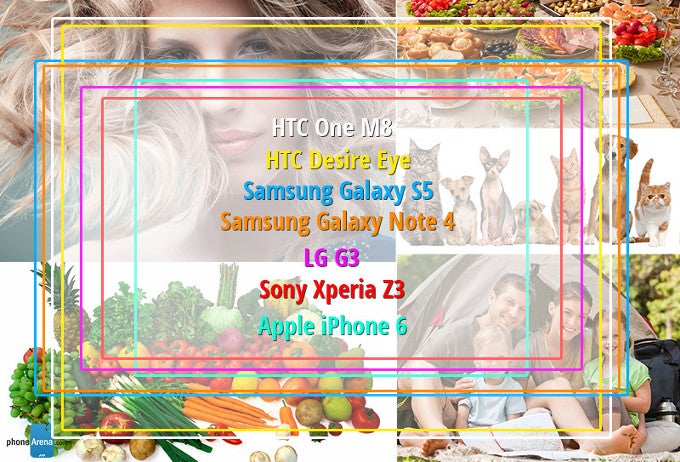 Each rectangle represents a given device's relative field of view, all things being equal. The areas have been approximated and are not 100% representative.
Whether you call it a usie, wefie, or groufie (careful, Huawei might object!), the appeal of snapping group selfies (perhaps we should just call it that) is there. Unfortunately, save for the Galaxy Note 4, no other phone on our list has the ability to shoot panoramas with the front-facing camera. And even if they all
did
, one could argue that having a wide-angled lens for selfies is still beneficial.
Just ask Jarred Leto
.
Anyways, with the exception of the HTC Desire EYE, the HTC One M8, and the Apple iPhone 6, who churn out 4:3 snaps, all other phones in our comparison shoot in a 16:9 aspect ratio when using their marketed resolution. But there's more to it – their cameras also have different (sometimes vastly) field of views, or, in other words, can capture relatively less or more of the scene in front of them in a single snap.
A clear victor emerged from our tests, and that's the One M8, challenged only by the Desire EYE – HTC is keeping it in the family. The rest are essentially stacked in pairs of two – the Galaxy S5 and Note 4 are bunched up together and occupy the third and fourth spot in our ranking, and so are the iPhone 6 and Xperia Z3 (who finish last). The LG G3 sits somewhere in the middle of those two pairs.
Video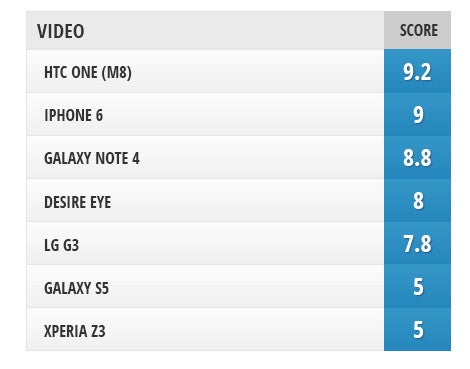 Snapping selfies might have turned into a commonplace activity, but taking video with the front-facing camera isn't quite so popular an option. Nevertheless, folks still use the camcorder for video calls and vloggers are also tapping it frequently. Besides, so long as we're going in-depth, it makes sense that we test this aspect, too, though do have in mind that we're keeping these scores separate from the conclusive rank list at the end of the piece.
So, video capture. First off, let's start by pointing out the two outliers here: the Note 4, which shoots in 1440p, and the iPhone 6, which is still stuck at 720p. The rest of our contestants all produce 1080p footage. The frame rate at which video is taken also differs in some cases, with the Desire EYE only capturing 23 framers per second (FPS), while most others do 30 frames.
As for overall quality, we've got to give it to the HTC One M8 (which does 25 FPS), for it juggles exposure well, renders natural colors, and captures rich details and sound. The iPhone 6, despite its 720p clips, landed second, for it, too, managed exposure expertly, all the while checking the rest of the boxes as well. The bronze was grabbed by the Note 4, which manages exposure very well, but excellently.
Next up, we have the Desire EYE and the LG G3, both of which perform equally well. Last on our list are the Galaxy S5 and the Xperia Z3, as both exhibited the same kind of issues that were impossible to miss in the previous sections: issues with focus and relatively washed-out colors with the former and aggressively-tinted (purplish) footage with the latter, which also proved to have the greatest troubles with sound recording. Take a look and see for yourself.
Conclusion and final thoughts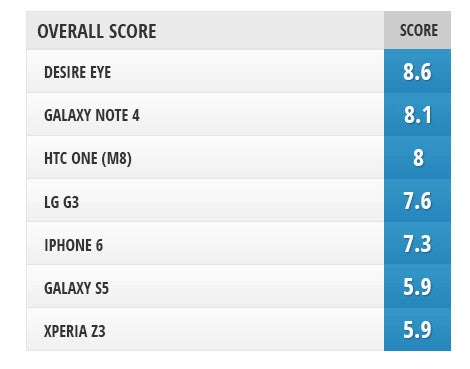 So where does all of this leave us? With the Desire EYE on the top, that's where. Indeed, HTC's selfie-maniac of a child proved well-equipped to handle pretty much each and every scenario we threw at it, and you can expect the same. It shines with its incredible level of detail and great low light performance, and this second part has a lot to do with its dual LED flash.
But details aren't everything, and the Note 4 showcased as much time and time again. Some of you might be tired of hearing this, but keep in mind that most people will be looking at your otherwise super-detailed selfies through a tiny window on Facebook, and an even smaller one on Instagram and Twitter – the three most likely destinations for your selfies, all of which compress your photos, too. This notion is further cemented by the One M8 and its relatively high-res, 5-megapixel cam. Admittedly, the M8 performs admirably, but it still does have some issues with bright light sources during the night and its shots are not immune to errors when light is limited. In other words, its high-res sensor alone was not enough to ensure the silver.
The LG G3 and iPhone 6 landed fourth and fifth, respectively, and that's not surprising, for the two offer middling performance overall. The exception here is the G3's great sound quality during video capture, while the iPhone 6 impresses with the shots it pulls off indoors. As for the last two slots, those are occupied by the Galaxy S5 and the Xperia Z3, and deservedly so. The truth is that even when they were on their best behavior, they still simply produced unpleasant photos that have little to no appeal and will likely end up in your gallery's trash bin.
And with that, ladies and gents, we conclude our overview of the present state of affairs. Discuss!