The Woz loves the Apple Watch
83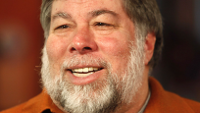 Apple co-founder Steve Wozniak is as honest as they get.
He's called out Apple at times
for "losing its cool" and for its lack of innovation, and he has been
known to use devices made by Apple's competition
. Thus, we have to take the
harsh comments he made about the Samsung Galaxy Gear last summer
as being his real and honest opinion about the smartwatch. The Woz said that he got rid of the device on eBay after half a day because it was worthless. What he is looking for in a smartwatch is more than "
just a little Bluetooth connection to the smartphone
." What he seeks is a feature-rich stand-alone timepiece.
While the Apple Watch doesn't exactly fit that description, Wozniak talked about the Apple timepiece in an interview with the BBC. Obviously a big fan of the device, the Woz said "
Apple makes their products more fun than anyone else...it's going to be so special, everyone is going to notice...everyone who owns Apple products will buy it. That means millions of people will buy this watch right from the start."
He points out
the huge edge that the Apple Watch will have from diabetics
whocould use the watch to monitor their blood sugar around the clock instead of having to draw blood a few times a day
.
As for his own timepiece, the Woz uses a unique 45-year old watch made up of three vacuum tubes that turn on to tell him the time only when he moves his wrist, which saves on battery life
.


So what's next from Apple? The man who co-founded the company along with Steve Jobs talks about self-driving cars, drones and Artificial Intelligence. He says that better voice recognition will make the biggest difference for people like himself. And while he has been in touch a couple of times with actor Seth Rogen,
who is going to play him in the upcoming Universal Pictures' biopic of Steve Jobs
, he says that he is loath to give directions to him because it could only lead to problems for the movie.
Check out the BBC interview with Wozniak by clicking on the video below.
source:
BBCNews
via
BGR