Seth Rogen reported to play the Woz to Christian Bale's Jobs
14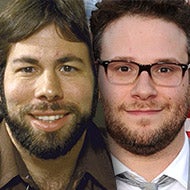 Although we've already seen two Steve Jobs biopics rushed to market following the Apple founder's death, the one that many have been waiting for is the project happening at Sony Films.
Aaron Sorkin
has finished the screenplay, the project has a director, and now the cast is getting filled out. The latest news is that Seth Rogen is in talks to play Steve Wozniak in the film.
The reports are somewhat scattered on the matter.
The Wrap
says Rogen is under consideration.
Variety
is calling it a done deal. And,
The Hollywood Reporter
is saying that Rogen hasn't officially signed on to the movie, and it actually isn't even clear if a formal offer has been made to Rogen. Overall though, it seems like Rogen is the top choice of the film's producers. If Rogen does sign on, he would be partnering with
Christian Bale
on screen. Bale recently signed on to the title role of Steve Jobs. There is also word that Jessica Chastain is being considered for the film, but it is unclear what role she would play.
This biopic has been in the works for a while, and has had one major setback after Aaron Sorkin finished the script when the original director David Fincher was taken off of the project, and replaced with
Slumdog Millionaire
director Danny Boyle. Of course, ultimately even if Seth Rogen does take on the role of Woz, he may not have all that big a part in the movie, which has been rumored to be focused around
three major Apple announcements
, and depending on which product events are covered, Woz wouldn't be around for most. Rumor has it that Sorkin chose the original Mac, NeXT, and the iPod events, and has left out the iPhone completely.