Swiss Railways to burn Apple with legal complaint on a patented clock design
35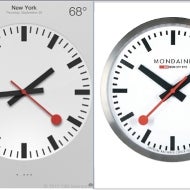 The Swiss Federal Railway Service (RBB), known for its record timeliness, has a signature clock design that exists on all of the time-telling units in stations, and has been created by its employee Hans Hilfiker in 1944.
It has been patented, but a license to use the design was sold to the Swiss clock maker Mondaine for its piece of art wristwatches.
It was noticed, however, that the same clock design is being used in Apple's Clock app for the iPad that came along with iOS 6 yesterday, and it's as if Apple just erased the Mondaine branding, that's how similar the designs look.
SBB said it is preparing the paperwork to file a legal complaint against the use of its patented clock design, although it is pleased that Apple has found it interesting enough to use as the default clock in its iOS 6 iPad app. Oh, the joyful litigious times we live in.