A Galaxy S10+ may replace the Note 10, how about that?
38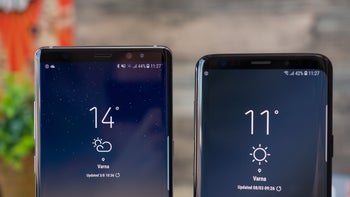 Samsung may be gearing up for big changes in its phone lineup after it has its strategic hat back on with the
release of its Vice Chairman Lee
from the prison doldrums. Mr Lee is bent on ending the evolutionary development of Samsung's recent smartphones that the current head of the mobile department implemented and is willing to shake things up before
Apple
or the
Chinese phone makers
take the innovation initiative. What's the next big thing in mobile, then? Why,
bendy handsets
, of course. As per one Korean industry insider cited today:
Foldable smartphones, which are expected to be released in early next year, are a form of a pilot production, but they will emerge as the main lineup at least the following year. At that time, the interest will be whether to unify the S Plus and Note products, which will depend on the Galaxy Note 9 response.
That ties with another report from yesterday, that Samsung may indeed
merge the Galaxy S and Note lines
, as the pros are increasingly outweighing the cons. The idea has been floated to Samsung suppliers for a while, but because of the
ho-hum Q2 results
, now Samsung may be ready to take action. Previously, the Note line had two big differentiators before the Galaxy X flagships - its S Pen stylus, and larger displays. With the introduction of the S8+ and S9, however, the big screen point became moot. The
Note 8
has a 6.32" display, the
S9+
is 6.22 inches, while the
Note 9
is said to come at 6.38 inches, negligible differences.
Rumor has it that it considers bendable phones that can
go from shirt pocket to a tablet size
to be a real advantage before Apple or anyone else that is said to be working on those, but won't be ready before 2020 with any concepts, so Mr Lee has allegedly ordered a firm commitment to get the Galaxy X out of the door early next year to gauge market acceptance.
Thus, it only becomes logical that the Galaxy S and Note lines may merge, and the largest
S10+
may land with a stylus before long. If you thought that 2019, the 10th anniversary of the S-line will be interesting, wait until Samsung decides they should all bend in 2020, just like it experimented with just a side curve in the
Note Edge
, and now all of its flagships have sloping flexible screens. That is why we wanted to ask your opinion on the merging of the Galaxy S and Note lines, yea or nay?