Here's how the 'hidden display' on the foldable Galaxy X may function
8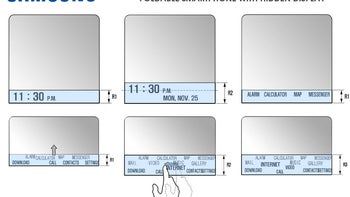 We've been hearing it for years, but it
may finally be happening
- the bendable phone, that is. While Huawei could
beg to be first to market with one
, Samsung may outshine it next year, as the design of its purported foldable
Galaxy X
, or
Winner
, or whatever it names it, is reportedly already finished and nearing release.
Samsung allegedly brought both infolding and outfolding prototypes at a secret meeting around the CES expo earlier this year, and its presentation attracted larger than the usual crowd of investors and carrier reps. The agile Galaxy it outs will likely be of the infolding type, keeping the outfolders for a next generation of bendable handsets, due to their higher curvature when folded, hence the need for increased durability.
If you are wondering what "infolding" means, look no further than Samsung's schematics on the matter here. In fact, there is one recently amended patent that is titled exactly as what the Wall Street Journal reported yesterday that the Galaxy X will be: "
Foldable electronic device with hidden display
." What's that hidden display you ask?
Well, from the looks of it, a small information panel sits hidden under the top rear when the phone is open and slides out when the phone is flipped closed. Thus, you will be able to see pertinent info like date, time and notifications in this second screen of sorts without having to unfurl the phone, but prying eyes won't be able to read your notifications from behind, not bad.
Right after
his prison break
, Samsung's
Vice Chairman Lee
reportedly
put the highest priority on the foldable phone
for its disruptor potential in a sea of me-too handsets, and the next frontier for market expansion in a tepid market. If Samsung indeed outs what you see in the patent below, it will most likely have a head start of two years before
Apple
and all the rest of the gang that are rumoured to be exploring bendy screen designs.
Recommended Stories