Samsung may merge the Galaxy S and Note lines, sets modest Note 9 sales goal
26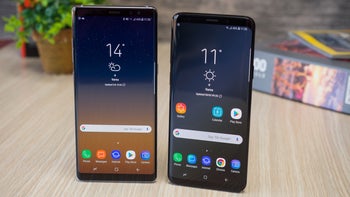 Big things will be coming from Samsung after Vice Chairman Lee's
release from prison
, and we don't mean the renewed focus on outing a
unique bendable phone like the Galaxy X
only. Mr Lee is reportedly embarking on a complete review and overhaul of Samsung's mobile portfolio that has been
under pressure
this year, both at the top-end, where people
balk at high prices
and down the totem pole where Chinese brands are eating Samsung's lunch with value-for-money propositions.
One of the ideas that have been floated in Samsung's boardroom meetings for the past year or so, and even pitched to partners, says Korean media today, had been to merge the flagship Galaxy S and the niche Galaxy Note lines, as, ever since Samsung started outing a duo of flagship devices, there's been a considerable overlap between, say, the larger
S8+
and
S9+
phones, and the
Note 8
as well as the upcoming
Note 9
.
As the profitability in the mobile department takes a nosedive, Samsung apparently mulls folding the Note line into the Galaxy S one at the very top end, meaning that instead of a Note 10 next year, we might simply get a
Galaxy S10+ with a 6.4" display
and an S Pen stylus. This would save on production and development costs for two different handsets and might explain the rumors that Samsung is prepping not one or two, but
three handsets in the S10 anniversary generation
next year.
As far as the Note 9 goes, despite all of its
upgraded virtues
compared to the Note 8, like a much larger battery (
4000mAh
vs 3300mAh), slightly bigger display (6.38" vs 6.32"), variable aperture camera, and
more basic storage
, Samsung is setting a comparatively modest sales goal internally of 12 million handsets. That's in line with the expected Note 8 shipments and indicates that Samsung is simply expecting not to lose ground with the line's fans this year, rather than earn a plethora of new ones.