The foldable Galaxy X nears release, as Samsung needs a unique phone to top Apple and China
5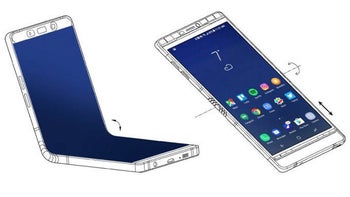 Tucked in a Korean media report that the
release of Samsung's Vice Chair from prison
will accelerate innovation and delivery in its mobile department, are a few precious nuggets of info about the company's foldable
Galaxy X
phone, or whatever it gets named.
The Samsung founder's heir has the authority and strategic thinking to make long-term decisions instead of focusing on short-term outcomes, and, since the mobile section is in a kind of a crisis mode with the
lukewarm Galaxy S9 sales
, bold moves are needed. Jay Y. Lee has already ordered a
last-minute change in the Note 9's design
to make it thinner, after going to China to meet with the bosses of Xiaomi, Huawei and Vivo there, and perusing their phones in a local shop. He is the one being able to deliver bolder changes, too, say local industry watchers.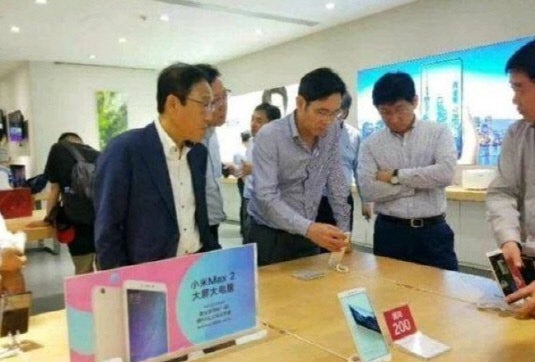 This grainy pic shows Samsung's VC Lee testing Chinese smartphones in a Shenzhen shop, allegedly resulting in a change in a finalized Note 9 design to make it thinner
So far, so good, we've heard that the foldable Galaxy X may be
released sometime in 2019
, and that Samsung has focused on getting an
in-folding version right first
, rather than an out-folding type with the screen on the outside of the handset. It turns out, however, that Samsung is now looking at the Galaxy X (tentative name) as its sole chance of real differentiation in the market, and it's important to get it out of the doors quickly since Apple and Chinese phone makers are also exploring foldable devices. Wait, what?
It's not the first time we are hearing about
Apple toying around with different bendy designs
. and Chinese display makers already have developed
flexible OLED panels
, too. These aren't hitting the market before 2020, though, all sources indicate, so Samsung will have a head start if it delivers something now. This is why the report says that Samsung has pulled the Galaxy X release for as early as it can possibly deliver a finished product with some value-adding software and hardware. Thus, we can indeed start saving for the world's first foldable handset, as analysts prime it for release in January, after a CES 2019 introduction in Las Vegas:

The popularity of foldable smartphones has not yet been proven, but now it is considered the only alternative to rebuild the market dominance. Samsung Electronics is taking the risks and taking the lead in the market. It's the biggest watchpoint.

The limited pilot batch was reportedly aimed at gauging market acceptance, yet now Samsung may issue it as a whole different line, separate from the Galaxy moniker, though that decision is still up in the air, says the publication. The reason for accelerating the foldable concept is the double-whammy of pressure on Samsung's mobile revenues. The current department head's strategy of profit preservation by releasing uninspiring iterations has had little success, as can be seen
from the Q2 results
. Samsung can't refocus much on the low- to mid-range segment, as Chinese phone companies are eating everyone's lunch there, while
tepid sales of the S9
have put the flagship section in revenue jeopardy, too.
Thus, the company might try and break away from the competition by betting big and bold on foldables, and we can't wait to see what it has in store for us. The idea of having a phone with the footprint of a 5-incher in our skinny jeans to carry around, then
unfurling it to a 7-incher
to watch a video or browse, is pretty tantalizing, but let's wait and see what Samsung may have in store a few months from now.
Recommended Stories