Samsung GT-I9300 prototype indeed labeled Galaxy S3, faster Mali-400 graphics processor onboard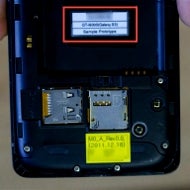 Doubts whether
the Samsung GT-I9300 leak today is actually the Galaxy S III
are somewhat dispelled by the next set of pics the guys from Tinhte posted, showing the microSD card slot and battery. The label inside clearly reads "Galaxy S3 sample prototype", but the date of the unit is from way back in December last year, so the final design is probably nothing like this
shell with Galaxy S III innards
.
Thus it could still be called "M" or something else, and carry the specs of what we are accustomed to call Galaxy S III, since a quad-core Exynos and 720p AMOLED display are nothing but flagship specs, and that's what this GT-I9300 unit is sporting without a doubt.
The SMDK4x12 label against the Hardware section in the Android System Info app denotes exactly an Exynos 4 series system board made with the 32nm process, but the chipset and specifically the Mali-400 GPU shown is what baffled us at first.
A 32nm chipset would certainly allow upping the GPU clock speed and still keep the graphics subsystem cool and frugal in terms of power consumption, compared to the 45nm Exynos 4210 in the Galaxy S II. So that leaves SMDK4x12 to stand for the
demoed, but not announced Exynos 4412
.
As far as the other specs, the
HD Super AMOLED screen will undoubtedly be gorgeous
, but we are a bit puzzled by the presence of the same 8MP camera with f/2.6 aperture like on the Galaxy S II, as the
sample photos
' EXIF data indicates, so we cross fingers the final unit has a slightly more upgraded module for the sake of novelty, and we don't mean the megapixel count.