Samsung to use phosphorescent green pixels in the Galaxy S III screen for improved battery life
37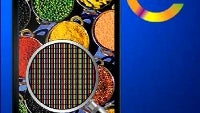 One of the advantages of LCD displays when it comes to Samsung's AMOLED screens is that they consume the same amount of energy regardless of the colors they display.
AMOLEDs power consumption surges so dramatically when displaying white, despite that they are more efficient with dark or colored images, that in browsing battery tests smartphones with LCD have an advantage over AMOLED ones, due to the mostly white website backgrounds.
Well, that advantage for LCDs might be going into oblivion, as Samsung is reportedly using phosphorescent green for the pixels in its
alleged Super AMOLED HD Plus screen that is to grace the Galaxy S III
. The trick allows for power consumption when displaying white to be on par with LCD displays at mid-brightness, thus eliminating one of the few advantages of LCD screens before AMOLEDs. The Galaxy S III screen will still be superiour to IPS-LCDs like on the iPhone 4/4S for displaying images and video, it is said.
The display on the Samsung Galaxy S III is reconfirmed again to be 4.6" with true 319ppi pixel density thanks to the regular RGB matrix arrangement of the subpixels. Moreover, if Samsung has truly managed to lower power consumption when displaying white,
battery life gains should be substantial
, as those HD displays are one of the most power-hungry units in today's flagship smartphones. Apparently that is one of the
elements Samsung said it is employing for improving the battery life
on its devices this year.
Recommended Stories