Dual-core Samsung Exynos 4212 gets announced, ticks at 1.5GHz, packs a faster GPU
25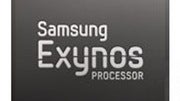 The latest member of the Exynos SoC family has just been announced at the Samsung Mobile Solutions Forum, which the company hosted in Taipei yesterday.
Unveiled was the dual-core Samsung Exynos 4212
, which is to succeed the 4210 chip that powers the manufacturer's current flagship smartphone, the
Samsung GALAXY S II
, and its respective AT&T and Sprint models.
What makes the Samsung Exynos 4212 better than its predecessor is that it ticks at 1.5GHz rather than the 1.2GHz that the 4210 is clocked at. Another step up is that it is built using a 32-nanometer process, which results in a 30% gain in power efficiency. In comparison, the Exynos 4210 was built using a 45-nanometer process. Last but not least, the 4212 packs a new graphics core, which should deliver up to 50% faster rendering of 3D graphics.
While rumor has it that the Samsung Exynos 4212 might power the
Google Nexus Prime
, select third party companies will be also given the chance to test the chip for use in their own smartphones or tablets. The privileged manufacturers will be provided with test samples within the fourth quarter of 2011.
Samsung Unveils its Next High-Performance Application Processor for Smartphone and Tablet Devices
TAIPEI, Taiwan--(BUSINESS WIRE)--Samsung Electronics Co., Ltd., a world leader in advanced semiconductor solutions, today introduced the latest addition to its Exynos product family – the Exynos 4212 - a dual core ARM Cortex™-A9 application processor, designed on Samsung's advanced 32nm High-K Metal Gate (HKMG) low-power process. With best-in-class performance, the dual-core Exynos 4212 offers mobile device systems architects a new solution designed to support a high-quality user-experience and energy-efficient requirements of smartphones and tablet devices. Samsung's new Exynos application processor is displayed at the eighth annual Samsung Mobile Solutions Forum held at the Westin Taipei.
"As innovative technologies appear on the mobile landscape, the market continues to embrace further developments and performance acceleration in mobile computing," said Seh-Woong Jeong, executive vice president of System LSI sales & marketing, Device Solutions, Samsung Electronics. "Samsung is addressing this trend with its powerful low-power Exynos family of processors based on its proven design technology and cutting-edge process technology for performance and power improvements at the system level."
Leveraging its deep sub-micron expertise in high-performance/low-power technology, Samsung designed the Exynos 4212 on its 32nm low-power HKMG logic process technology with dual Cortex-A9 cores. Samsung's 32nm HKMG process node is specifically tuned to offer a competitive, cutting-edge platform with double the logic density and a 30 percent lower power-level over the previous process generation.
In addition to the 25 percent increase in processing power, the new processor features an enhanced graphics processing unit (GPU) that is capable of delivering 50 percent higher 3D graphics performance over the previous processor generation from Samsung.
The Exynos 4212 incorporates a rich portfolio of advanced codec accelerators that support digital still images, video recording and play-back at 1080p full-HD resolution, an image signal processor and an on-chip HDMI 1.4 interface.
Samsung's new Exynos 4212 application processor will be sampling to select customers in Q4 2011.
Samsung also launched a new website dedicated to its Exynos family of application processors. Designed to facilitate easy communication with industry partners and end users, the new micro site offers detailed product and event information as well as user experiences. More information can be found at www.samsung.com/exynos.
About Samsung Electronics Co., Ltd.
Samsung Electronics Co., Ltd. is a global leader in semiconductor, telecommunication, digital media and digital convergence technologies with 2010 consolidated sales of US$135.8 billion. Employing approximately 190,500 people in 206 offices across 68 countries, the company consists of nine independently operated business units: Visual Display, Mobile Communications, Telecommunication Systems, Digital Appliances, IT Solutions, Digital Imaging, Memory, System LSI and LCD. Recognized as one of the fastest growing global brands, Samsung Electronics is a leading producer of digital TVs, semiconductor chips, mobile phones and TFT-LCDs. For more information, please visit www.samsung.com.