Is this the Samsung Galaxy S III?
79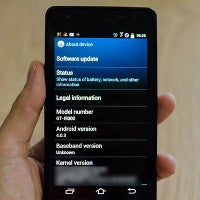 The
Samsung Galaxy S III
is shrouded with a cloud of mystery thanks to Samsung taking security extremely seriously, but this time the Galaxy S III might have finally leaked out. Vietnam's Tinhte known for magically getting early access to the industry's most wanted devices, is on it again with what looks like the S III.
Now, to be perfectly exact the handset you're looking at is the Samsung GT-I9300, as the model number testifies. We've seen leaks of such a device numerous times, but previously it was rumored to have a non-HD screen, something that made us doubt whether it's the Galaxy S III. Now, the technical details obtained by the Vietnamese tech blog paint a different picture.
Here are the spec highlights of the upcoming device:
- 4.6-inch display with a resolution of 720 x 1184 pixels (320 DPI)
- a quad-core 1.4 GHz processor
- Mali 400 graphics
- 1GB of RAM
- Ice Cream Sandwich
- 8-megapixel camera
- 16GB of storage, expandable via microSD card slot
- 2050 mAh battery with NFC support
There's obviously a front-facing camera as well, but there are no details about the actual resolution. So obviously, this fits the Galaxy S III image everyone expects well.
Now, while we're convinced by the leaked specifications, we have a hard time believing that we're looking at the final design of the S III. We've been hearing that Samsung is using custom boxes to mask the S III, and Tinhte confirms that this is the case with what you see below as well. Our guess is that the handset will have different looks when it gets official, possibly matching what's inside the shell here.
Finally, the most solid argument about this leak is a video of the handset in action. You can check it out below, but in either case it's two more weeks until Samsung confirms or denies this all officially. You can however let us know now whether you think that's the Galaxy S III and how do you like it.