PhoneArena Awards 2015: Best large smartphone
80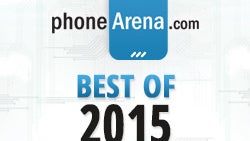 It is known that humans are creatures of habit – most of us don't like change, or at least not when it comes suddenly. That's simply how our brains are wired. The scope of this statement extends to technology as well, which is why many were skeptical about extra-large smartphones when they started to pop up. Remember the first Galaxy Note smartphone and how it was made fun of because of its size? Yeah, nobody's laughing at it now, as Notes are selling by the millions. The market has grown mature enough to accept smartphones of large size – or phablets, as they're often called – and to appreciate their benefits.
This brings us to today's post in our PhoneArena Awards series – it is time to honor the best extra-large smartphone of 2015. And our top pick will hardly come as a surprise. It is made by the company that single-handedly kickstarted the phablet category and made us rethink what the upper limit to a phone's size should be. Ladies and gents, the best large smartphone of 2015 is the...
Samsung Galaxy Note 5
If a large, powerful, well-made smartphone is what you need, this is definitely one of the first models you should take a look at. And look at it is what you'll be doing for quite some time, as the Galaxy Note 5 is quite the attractive smartphone – made of glass and metal, it is a device that makes heads turn. But design is far from the only reason why we chose the Galaxy Note 5 as this year's best large smartphone. The Galaxy Note 5 also performs to par in every department, has the specs to make a geek drool, and packs a rich set of functional features, the S Pen stylus being among them. Simply put, the Samsung Galaxy Note 5 has all it takes to justify both its premium price tag and its top place in the category.
Runner-up: Huawei Nexus 6P
Powerful and stylish, the Huawei Nexus 6P is a worthy successor to last year's Nexus 6 and one of the best large smartphones you can get right now. There's just so much value that you get for your $500 bucks – premium design and build quality, a big and crisp display, a fast and capable camera, and the buttery-smooth performance of the newest Android release to date, 6.0 Marshmallow. And that's just part of the whole package. The Nexus 6P also treats you to goodies like front-facing speakers, a fast fingerprint scanner, USB Type-C connectivity and fast charging. If that's not enough to make a great phablet at a great price, we don't know what is.