PhoneArena Awards 2015: Best Smartphone
79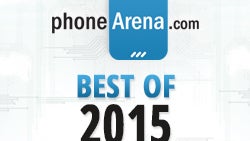 Reviews are something we have a ton of. In 2015 alone, we brought you well over 100 reviews of smartphones and tablets, as well as reviews of gadgets and accessories made for smartphone users. Needless to say, some of these products we didn't quite like, while others delighted us with their features. This article is about the latter kind. To be more specific, with the latest post in our PhoneArena Awards of 2015 series we're announcing the best smartphone of 2015.
To some of you, our top pick will not come as a surprise. After all, the phone got one of the highest review scores we had given in recent history. And rightfully so, as it is a masterpiece of a phone. In fact, it comes from a company that's been at the top of the smartphone market for many years and has been making some of the most influential handsets ever. Ladies and gents, the best smartphone of 2015 is the...
Apple iPhone 6s
There's no such thing as a perfect smartphone. There never was, and our guess is that there never will be. But every once in a while, we come across a phone that gets very close to that point, and the iPhone 6s is one of them. Of course, some of you will argue that Apple's flagship device is inferior to many competitors in terms of specs – that its screen has only 326 ppi, that its camera is just a 12MP shooter, that its battery cell holds only ~1700mAh worth of charge. Sure, some other phones exceed these figures by a considerable margin, but let us not forget that the smartphone experience goes beyond the device's specs. And a great overall experience is what the iPhone 6s has to stand out with.
Right off the bat, the iPhone 6s is a thing of beauty, just as a phone of the high-end class is supposed to. The iOS software experience makes Apple's phone reliable, easy to use, and always up to date on the latest software, not to mention the superb catalog of iOS applications and media that are at a tap's distance. Speaking of taps, the 3D Touch technology built into the display is innovative and brings a new level of smartphone interaction. In fact, some other phone makers are already trying to emulate it. Then there's the camera, which, despite its seemingly average resolution of 12MP, snaps consistently great photos and videos. And as far as real-life battery life goes, the highly efficient iPhone 6s is in no way inferior to its competitors. All in all, the iPhone 6s may be a pricey handset, but there's just so much value that you get in exchange!
Runner-up: Samsung Galaxy S6
The Samsung Galaxy S6 was a worthy candidate for the top spot and ended up only a few votes short of grabbing it. Indeed, it is a well-made smartphone, and one setting a milestone in the evolution of Samsung's S-series. How does it do that? With design, performance, and efficiency. Made of glass and metal, the Galaxy S6 is probably the best-looking smartphone in the series, and one that's radically different when compared to its plastic-made predecessors. Oh, and did we mention the potent hardware under its hood? The speedy SoC, RAM, and storage, shot the Galaxy S6 to the top of the performance charts when it launched. Add an awesome camera to the formula and you get a smartphone well-worthy of its review score.