PhoneArena Awards 2015: Best Tablet
82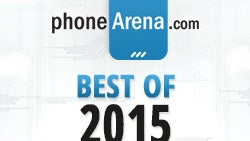 As 2015 is coming to an end, the time has come for us to honor the coolest gadgets of the year. On Thursday, we kicked off our PhoneArena Awards series by naming
our favorite smartwatch
, and today, we'll reveal the most impressive tablet we got to handle in 2015. Can you guess what it is?
Here's a hint: 2015's best tablet is made of durable magnesium and has a built-in kickstand. Its screen is big and beautiful, and its Intel processor packs a mighty punch. Its set of accessories includes a high-tech stylus and a lightweight keyboard. Also, it is designed by Microsoft and runs full-blown Windows. Frequent readers can surely tell that we're talking about the...

Microsoft Surface Pro 4
Yup, the Microsoft Surface Pro 4 is the best tablet we got to try in 2015. That's partially because there weren't all that many outstanding tablets released in 2015, but also because Microsoft's offering is packed with technology making it worthy of its steep price. That includes a large, gorgeous display, solid and sturdy construction, a convenient kickstand, and a last-generation Intel processor paired with plenty of RAM and storage. The latter hardware setup allows the Surface Pro 4 to run a huge portion of the Windows software catalog – from not-too-demanding 3D games and desktop-class web browsers to graphics editors and office suites. In fact, Microsoft claims that the Surface Pro 4 can replace a laptop, and to many a Windows user, that might very well be the case. After outfitting the tablet with a keyboard, that is. Simply put, the Microsoft Surface Pro 4 is not a tablet to be underestimated.
Runner-up: iPad Pro
In September, the rumors came true: Apple released a larger iPad. And it is not a bad tablet at all. In fact, its design, processing power, and software arsenal put it among the best, most exciting tablets money can buy right now. Sure, the iPad Pro is not exactly a product for the masses. It is more of a niche, professional-grade device. Its size puts it among the largest tablets around, and its price puts it among the most expensive, much like the case is with the Surface Pro 4. But considering what it is made for – to be a canvas for digital artists, a display for professionals to show off their projects on, and a high-end entertainment device – the iPad Pro gets the job done really well. If only its price was easier to swallow.