PhoneArena Awards 2015: Best value-for-money phone
50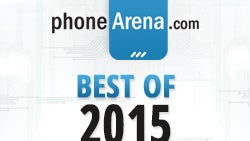 Smartphones exist across a broad range of price points. On one hand, it is totally possible to buy a new brand-name
smartphone for less than $100
. On the other, the price of a high-end, flagship-grade smartphone hovers around the $650 mark. Of course, in a perfect universe, we would all be using the best smartphones – the phones from the latter part of the price spectrum – but in reality, many of us have a budget to fit into. That is why when we give our opinion as to whether a phone is worth getting, we usually take into account its value-for-money ratio. Thankfully, in between the aforementioned price extremes exists a middle ground where a considerable number of good value-for-money phones reside.
This brings us to today's post in our PhoneArena Awards series – the one where we honor the year's best value-for-money phone. Our top pick comes from a company that knows a thing or two about making phones delivering great bang for the buck. In fact, its budget-friendly G series has been selling by the millions. But it wasn't a member of this particular lineup that got the first price. Instead, our award for best value-for-money smartphone goes to the...
Motorola Moto X Pure Edition
The Moto X PE is far from the prettiest, thinnest, or lightest smartphone out there. It is not the most technologically advanced either. But its excellent value-for-money ratio makes it well worthy of the top spot. Seriously, there's a lot to like about Motorola's phone – the large, high-resolution display, the smoothness of near-stock Android driven by the Snapdragon 808 SoC, the outstanding customization flexibility delivered by Moto Maker, and the protective coating that guards the handset against splashes, to give a few examples. Sure, the phone's battery life could have been better, and the camera can't quite impress with its low-light shots, but considering that the Moto X PE costs $400 unlocked, these are imperfections we're more than willing to accept.
Runner-up: Motorola Moto G (2015)
As we already mentioned, Motorola knows how to make a smartphone that's both cheap and good. Take its low-cost Moto G lineup as proof – all Moto G-series phones have been launched to positive reviews and have been selling really well worldwide. That is why to not mention the 2015-edition Motorola Moto G in this article would have been quite the goof. With a starting price of $180 unlocked, this is certainly one of the greatest cheap smartphones right now – snappy, fun, and functional with its lightweight software, highly customizable design, and solid battery life.
Recommended Stories