PhoneArena Awards 2013: Best value for money products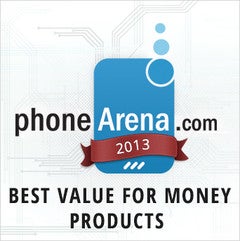 Smartphone and tablet buyers come in all shapes and sizes. Some people just go for the biggest, baddest, most expensive device money can buy – you know, the sparkly gadget one can brag with in front of the guys at the office. Others simply pick the cheapest phone or tablet around – something that won't burn a hole through their pocket, yet will run Angry Birds or Fruit Ninja if you give it a push.
However, today's post in the 2013 PhoneArena Awards is dedicated to neither of these groups. Instead, we'll be focusing on devices that offer the best value for money ratio. These are devices providing all the functionality and performance an average user would ever need, and then some, all the while carrying an adequate, justifiable price tag. There's a number of smartphones and tablets on the market that would fit into this category, but today, we're highlighting only the very best of them.
Google Nexus 5 and Nexus 7 (2013)
Motorola Moto G
Nokia Lumia 520
pixel
super-sensitive display and a usable, 5MP camera. Today, one can get their hands on a Lumia 520 for under $100, which is a steal. If you're interested in a decent, yet inexpensive full-fledged smartphone, go ahead and check it out.