New Nexus 7 and Android 4.3 officially announced
31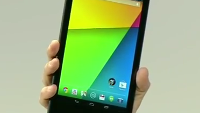 We can't really say that the new Nexus 7 has been the worst kept secret, because we have known quite a bit about the Motorola Moto X as well, but the Nexus 7 has been up there as far as badly kept secrets. We've been expecting the new tablet to be announced along with Android 4.3 Jelly Bean, and those announcements have finally been made.
Today's announcement, hosted by Android/Chrome chief Sundar Pichai was a bit late, starting about 10 minutes later than the scheduled 12PM EST (9AM PST), but the announcement got out of the gate with strong Android tablet numbers. Then, they got straight to the real announcements: the new Nexus 7 and Android 4.3 Jelly Bean.
The Nexus 7 is what we have been expecting: a thinner, lighter, faster, full-HD tablet. The Nexus 7 has a 1920 x 1200 resolution display, a quad-core 1.5GHz Snapdragon S4 Pro processor, Adreno 320 graphics, a 5-megapixel camera, 2GB of RAM, 16GB or 32GB of storage, optional 4G LTE, HDMI output, NFC, and wireless charging support.
Google's Hugo Barra says that the new Nexus 7 is
2mm thinner, 6mm narrower, 50g lighter, and can display a 30% wider range of colors
than the original. Additionally, the Nexus 7 should be
80% faster
than the original, and provide
4x the graphics performance
. Add that to the new
stereo speakers and virtual surround sound
. The size of the battery wasn't mentioned, but the tablet should get
9 hours of HD video playback and 10 hours of web browsing
.
As far as Android 4.3, the Nexus 7 will be the first device to ship with the update, and once again it offers a number of features that we had already known about like:
Bluetooth 4.0 LE, OpenGL ES 3.0, Dial pad Autocomplete, and increased battery life
. But, it also has a few other features that we didn't know about like
Restricted Profiles
(similar to Kid's Corner on WP8) which allows for only certain apps to be accessed, and even more interesting: apps can function differently and turn off features in-app if it is running in a restricted profile.
Barra said that the update to
4.3 will start rolling out to the Nexus 4, 7, and 10 today
, and will come to the Google Edition devices "soon".
The
16GB Nexus 7 will cost $229.99, the 32GB model will be $269.99, and the 32GB LTE variant will run $349.99
. Google's new Nexus 7 is available for pre-order beginning today and it launches on
July 30th
in Google Play and in a wide range of stores, including Best Buy, GameStop, Staples, Amazon.com and more. And, the LTE variant will be available at T-Mobile, AT&T, and Verizon.
The Nexus 7 is starting in the U.S., but will launch in the coming weeks in the UK, Germany, Japan, Canada, South Korea, Spain, Australia, and France.
source: Google
Recommended Stories