Nexus 5 is here: available today on Google Play
46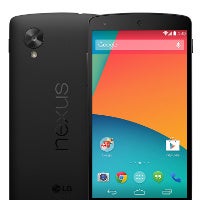 The Nexus 5 is finally here. After countless rumors and leaks, Google has finally officially unveiled the new member of the Nexus family and it comes with a 5-inch 1080p display, top-shelf specs and the latest Android 4.4 KitKat.
Plus, it features an ambitious optical-image stabilized camera that aims to deliver 'unmatched' dim light performance.
It comes in two colors from the start - you can pick between black and white. Most prominent on the front is the very sharp 5-inch display with a resolution of 1080 x 1920 pixels. That's as sharp as flagship smartphones get. The display uses in-cell touch, a fancy name for a technology that integrates the part of the screen that registers touch with the actual LCD. This eliminates reflections and makes the screen much easier to read outdoors.

Under the hood
Under the hood, the Nexus 5 features a Qualcomm Snapdragon 800 system chip with Adreno 320 graphics and 2GB of RAM. This is the exact same chip that powers the latest cream of the crop smartphones from Samsung, Sony and LG. We have seen the leaked benchmarks earlier and we have no reason to believe it will perform any worse than those flagships.
The handset will be available with 16GB and 32GB of built-in storage. There is no card slot to expand that.
Camera
We're excited to see Google pay special attention to the camera on the Nexus 5. Earlier Nexus phones featured lackluster cameras, something that Google promises to change with this device. The main camera is an 8-megapixel one with a single LED flash and it features optical image stabilization (OIS) that is said to contribute for the 'unmatched' dim light performance of the Nexus 5. Google promises less blur and noise in Nexus 5 images, and we're eager to put those claims to the test. Interestingly, the new Nexus uses the exact same OIS tech that is found on LG's latest flagship, the G2, and we found it worked very well there. The handset also features an improved HDR+ mode that captures a series of images and enhances them.
Android 4.4 KitKat
Android 4.4 KitKat makes a debut on the Nexus 5. The new version of Google's mobile operating system brings huge optimizations to the way memory is utilized and introduces new camera features like 'auto-awesome' images and movies, a compilation that the phone automatically creates using what's on your camera roll. As with every Nexus, this one is expected to be first on the line for new updates as well.
Battery
The Nexus 5 comes with a 2300mAh battery. We have definitely seen larger battery packs on similarly sized smartphones, so we don't expect the Nexus 5 to last more than the average smartphone. One cool feature that the phone has inherited from last year's Nexus 4 is wireless charging.
Release date, price and carriers
Best of all, the Nexus 5 release date is imminent. The handset is going on sale today online on the Google Play store in United States, Canada, France, Germany, Italy, Spain, U.K., Australia, Korea and Japan. Countries in Europe, Central/South Americas, Asia, CIS and the Middle East will get it in mid-November on other retailers. In the United States, the Nexus 5 will be available on Sprint, T-Mobile, Amazon, Best Buy and RadioShack. It will not be available on Verizon Wireless and question remains open whether AT&T will offer it.
To buy the phone on Google Play you don't need to sign a contract and the price is $349 for the 16GB Nexus 5 and $399 for the 32GB model.


Nexus 5 specs
| | |
| --- | --- |
| Display | 4.95-inch Full HD display, 445 ppi |
| Dimensions | 137.84 x 69.17 x 8.59 mm (5.42 x 2.72 x 0.34 inches) |
| Processor | 2.3GHz quad-core Qualcomm Snapdragon 800 (MSM8974) |
| GPU | Adreno 330 |
| RAM | 2GB |
| Internal Storage | 16GB or 32GB |
| Camera | 8MP auto-focus camera with OIS |
| Front Camera | 1.3MP |
| Sensors | accelerometer, magnetometer, gyroscope, proximity, light, barometer, orientation |
| Battery | 2300mAh with support for wireless charging |
| Other | Multiple LTE bands - support for Sprint and T-Mobile; Pentaband HSPA+ (works across the globe), NFC, Nexus 7-like design, ceramic physical buttons |

LG AND GOOGLE INTRODUCE GOOGLE NEXUS 5
Slimmest and Fastest Nexus Phone Ever Now Available Online in Select Markets

SEOUL, Nov. 1, 2013 — Following the success of Nexus 4, LG and Google have
partnered again to deliver the first smartphone featuring the latest Android operating
system, Android 4.4, KitKat. Packed with new features, Nexus 5 is the slimmest and
fastest Google Nexus phone to date.

With a stunning 5-inch Full HD IPS display, Nexus 5 boasts an expansive screen for an
unrivaled visual experience. The lightweight smartphone comes in both 16GB and
32GB versions and is the perfect combination of powerful performance, functionality
and convenience thanks to LG's proven hardware and best of Google software and
services.

"LG is proud to partner with Google again to develop the fastest, most powerful Nexus
phone ever," said Dr. Jong-seok Park, president and CEO of LG Electronics Mobile
Communications Company. "Nexus 5 offers the ultimate functionality in a modern
design and is a testament to the level of innovation that can be generated when two
great companies come together for a second act."

"We're excited to collaborate with LG on a new Nexus device," said Sundar Pichai,
senior vice president of Android, Chrome and Apps at Google. "Google Nexus 5 is the
slimmest and fastest Nexus phone to date and puts the latest platform innovations of
Android 4.4, KitKat, right in the hands of consumers.

Capturing the Moments that Matter
The camera in Nexus 5 features LG Innotek's acclaimed optical image stabilizer
technology which was first introduced in the LG G2. Mated to an 8MP camera with
longer exposures, less blur and less noise, Nexus 5 is unmatched in dim light

Global Web Site www.LG.com
performance. Nexus 5 also includes Photo Sphere making it easy to capture a series of
photos and turn them into a seamless 360-degree experience. And Google can create
Auto Awesome photos and movies from the content in your library to share with friends
and family. Moreover, the improved HDR+ mode in Nexus 5 instantaneously captures a
burst of shots and applies computational photography to intelligently fuse these images
together into one perfect photo with a greater range of shadows and light culled from
the multiple exposure and color data.

Packed with Power & Speed
Nexus 5 is the world's first phone running Android 4.4, KitKat, offering the power of
Google in a thin and lightweight device that still manages to feel solid and reassuring.
With a blazing fast SnapdragonTM 800 processor and 4G/LTE, Nexus 5 also boasts a 445 ppi Full HD IPS display with advanced in-cell touch technology that enables faster
touch recognition, better outdoor visibility and crisper images. This set of features is
packaged in a sleek, modern design that leaves no doubt that this is Google's premium
smartphone.

Best of Google
Android 4.4 is fast and powerful yet simple to use. The new dialer automatically
suggests people the most likely call while Caller ID by Google matches an incoming
phone number to a business even if that number isn't stored in the contact list. Users can
send and receive text messages directly from Hangouts, and Hangouts for Android now
supports location sharing.

With Gmail, Chrome, Calendar, Maps, Drive and Hangouts, Nexus 5 helps users
manage their day-to-day lives with familiar, easy-to-use applications. With Google
Now, initiating a voice search is as simple as saying "Ok, Google," and with more than
one million apps and games plus movies, books and music on Google Play, it's easier
than ever to find what you're looking for.

Global Web Site www.LG.com
Nexus 5 will be available for purchase in either black or white, no contract required, on
Google Play™ starting today in the United States, Canada, France, Germany, Italy,
Spain, U.K., Australia, Korea and Japan. Offline availability in Europe, Central/South
Americas, Asia, CIS and the Middle East will begin in mid-November.