Nokia's new Lumia phablets and tablet
16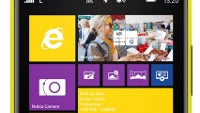 Today was not only
iPad day
. A bit earlier, Nokia held its own special event at which it announced its first Windows Phone-powered phablets and tablet. Starting off with the phablets in the Lumia 1520 and Lumia 1320, Nokia has made sure to have a little something to both customers who'd pay for a premium mobile experience, and those who would still enjoy a large screen but at a lower price.
The Lumia 1520 will be Nokia's top-shelf phablet. It'll sport a massive 6-inch LCD IPS display with a resolution of 1080 x 1920, along with some mighty hardware under the hood, including the Snapdragon 800 chipset and the ambitious 20.7 MP PureView camera. On the other hand, the Lumia 1320 will also offer a true phablet experience to consumers, but at a lower price, due to its 720 x 1280 display, weaker Snapdragon 400 SoC and other features that ultimately prevent the 1320's armor from shining as brightly as the one of the 1520.
Alongside its phablets, Nokia has also introduced its first Windows tablet - the Lumia 2520. It's a 10.1" 1080p tablet, armed with Snapdragon 800, LTE, an alluring price-tag of $499 and what not, but there's a "catch" - it'll be running Windows 8.1 RT, which means users will have access to a relatively limited catalog of software applications.
Nokia Lumia 1520 & 1320 specs, price, release date and features
Nokia Lumia 2520 specs, price, release date and features