6" Nokia Lumia 1320 outed with 3400 mAh battery: 'going large at a lower price'
35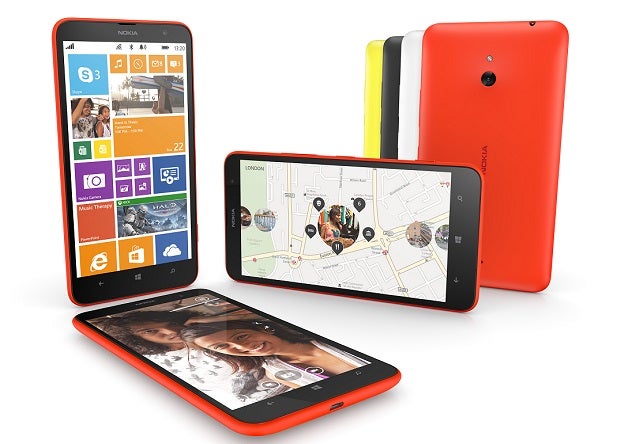 That elusive
Batman phone
that leaked here and there before today, is finally official under the title
Nokia Lumia 1320
for $339 before subsidies, rollout early next year, in orange, yellow, black and white. It fits the niche for those who'd like a really big-screen, yet midrange Windows Phone device that won't break the bank.
The 1320 sports a 6" 720x1280 pixels supersensitive IPS-LCD panel with Gorilla Glass 3 protection, a 1.7 GHz dual-core Snapdragon 400, 1 GB of RAM and 8 GB of internal memory plus microSD slot, and 5 MP camera with flash on the back. The kicker is that this thing not only sports 4G LTE and HSPA+ connectivity like the 1520, but it borrows its huge 3400 mAh battery as well, so you can expect some record endurance from it.
Moreover, most of the new apps and imaging innovations found from the Nokia Lumia 1520 are present on the Nokia Lumia 1320 as well, and will be coming to existing Lumias around the world with the next software update called "Lumia Black". This one will begin rolling for older Lumias in early 2014.
The phablet's dimensions aren't for the faint of heart, as you can expect from a 6-incher, at 164.25 x 85.9 x 9.79 mm and with a weight of 220g. As we mentioned, the Nokia Lumia 1320 will be available in a choice of orange, yellow, black, or white, and is coming first to China and Vietnam early next year, then to other Asian markets, India and European markets. It carries an estimated price of USD 339 before local taxes and subsidies, says Nokia, which is a pretty good deal for those who want a big screen handset on a budget.
Recommended Stories