Nokia Lumia 1520 hands-on
38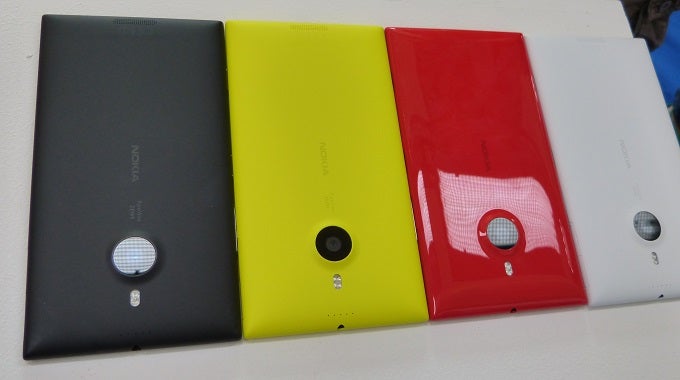 Introduction
We have been listening to the buzz about a Nokia Lumia "phablet" for quite some time now. We were also tracking the buzz related to Windows Phone support for HD displays which would also lead to a third column of standard sized (what is now "medium" sized) tiles in the Windows Phone environment. The story is one of software and hardware. More (or arguably smaller) tiles would fuel the need for full HD display support. The software would benefit from more robust hardware.
The result is the
Nokia Lumia 1520
, a new flagship from Nokia that provides a new and larger display, legendary ZEISS optics, and the smooth Windows Phone experience with a sprinkle of Nokia enhancements that make for a really neat user experience.
Design
The Lumia 1520 design is not a departure from Nokia's formula for success and that is a good thing. The unibody design is comfortable to hold and the color selection is easy on the eyes too. The edges and corners are nicely rounded. The volume, power/lock and camera shutter buttons are just were they need to be. Frankly, Nokia makes the phablet segment look good using its tried and true Lumia design language on the 1520.
While visual beauty is in the eye of the beholder, what we find underneath is also very attractive. The quad-core Qualcomm Snapdragon 800 processor manages the Windows Phone operating system with ease as it is tuned to 2.2GHz. Feeding the CPU is a 3,400mAh battery. Wireless charging is baked in along with NFC.
Display
The display on the Lumia 1520 is what you would expect of a HD panel, that is crisp and clear. The colors are more vivid given the Lumia's ClearBlack technology. The screen is responsive and features super-sensitive touch capability allowing you to use it with gloves if you want.
The 1080p LCD display brings great color to the game and small text appears nice and clean. Windows Phone's use of Live Tiles enhances the experience of seeing a lot of color all at once. Hardware-wise though, for a flagship, a display such as this is to be expected. Still, such displays sure are nice to look at.
The rest of the package is the Windows Phone experience with a side of Nokia experience applications that will make for a great overall collection.
Interface and Functionality
Coming straight with Windows Phone 8, the Lumia 1520 presents us with an almost identical user experience as any other WP handset, but there's a small, yet significant difference. Due to the larger screen size and extra resolution, the 1520 sports a third column for live tiles. This basically allows you to pin more stuff to your home screen, without having the need to scroll endlessly up and down. Aside from this, things are pretty much the same with regards to the functionality of the platform.
That said, Nokia has once again made sure to add a bunch of new stuff to Windows Phone and kind of make it seem like a more complete and appealing platform. Once such example is the Storyteller feature, which automatically places all of your photos onto a map, making it easier to relive the old memories from that trip last year.
Processor and Memory
The Lumia 1520 is a powerhouse. It's equipped with the ultra-powerful quad-core 2.2 GHz Snapdragon 800 chip, which guarantees epic performance even with the most demanding apps and games you can find in the Marketplace. Alongside it runs the Adreno 330 GPU, and guess what - it's all complemented by the healthy 2 GB of RAM. Seeing that the 1520 is shaping up to be quite the multimedia-centric device, it's also equipped with 32 GB of internal storage, which is expandable through a microSD card of up to 64 GB. Neat, huh?
Camera and Multimedia
It may not have a 41 MP sensor, but the 20.7 MP camera of the Lumia 1520 is quite ambitious as well. It still boasts a respectable sensor size of 1/2.5", along with an aperture of f/2.4 and focal length of 26 mm. We're also happy to report that the camera will feature optical image stabilization and 2x lossless zoom! On the software side, Nokia has once again reimagined its Camera application. You can now use a single app for all of your photography needs, as the app can give you both a simplified UI, as well as a more versatile interface, if you'd like to fine-tune your settings. An interesting feature of this camera is that it'll be able to snap raw DNG image files, which are not compressed and have sensor information intact.
As far as multimedia is concerned, you can imagine that the 6" IPS screen of the Lumia 1520 will be simply amazing for video playback or gaming (if you happen to find the games you want in the Marketplace). Of course, you'll also be able to take advantage of Nokia Music in the markets where it's available.
Price and release date
Nokia did not announce a formal release date or list any specific carriers that will sell the Lumia 1520. It did share the expected retail price though, $749. It is expected that at the very least, AT&T will support this device, though we have been seeing rumors that it may release on both AT&T and Verizon at about the same time.
Even with those announcements still pending, the price point is not a surprise. After subsidies are applied, seeing an introductory price of $299 with a contract does not seem off the mark. Keep checking back here for more news about the Nokia Lumia 1520!