Nokia Lumia 2520: all the new features roundup
8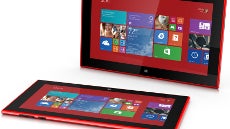 Microsoft might have its
Surface 2
tablet to show for Windows RT, but Nokia seems to have just one-upped it with its first contemporary tablet effort, the
Lumia 2520
. The slate offers plenty of boutique features, like running Win RT, for example.
We kid, as Nokia really has put a good effort into the slate, tailoring the design to the way people usually hold and use tablets, and giving it something no other slate can boast - the highest tablet screen brightness of 650 nits, coupled with the record sub-6% light reflectance, making it the best slab to use outdoors, even under direct sunlight.
That doesn't exhaust the list of notable feature coming with the $499 Nokia Lumia 2520 on AT&T and Verizon, so check them out in our slideshow below.