Nokia Lumia 1520 vs Samsung Galaxy Note 3 vs HTC One max specs comparison: in a world of phablets
42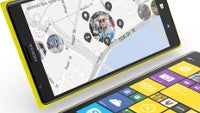 The Nokia Lumia 1520 is here and it's the first Nokia phablet, the name of a category of large-screened smartphones that came to be with the first Samsung Galaxy Note. Three years after Android kickstarted the phablet wave, Nokia has finally joined in with a large phone of its own, the Lumia 1520.
The Nokia Lumia 1520 comes with a gigantic 6" display with a resolution of 1080 x 1920 pixels and it supports Sensitive Touch technology so you can operate it with your gloves on in the winter. It also features the latest Snapdragon 800 system chip putting it on par with phablets like the Samsung Galaxy Note 3.
Its biggest advantage seems to be the combination of that large screen with a very promising 20-megapixel PureView camera with optical image stabilization (OIS) and dual-LED flash.
Unlike the Note series, the Lumia 1520 does not have an S Pen, nor are the apps there, so it is not exactly optimized for stylus use. On the flipside of things, the Nokia Lumia 1520 is the phablet with the largest battery of all latest phablets. It packs a 3400mAh battery, larger than the 3300mAh cell on the HTC One max and the 3200mAh on the Galaxy Note 3.

The 5.7" Samsung Galaxy Note 3 and the 5.9" HTC One max are understandable its biggest rivals. Take a look at how it rates against the best phablets out there right below.
Super AMOLED
S-LCD 3
IPS LCD
Scratch-resistant glass, Ambient light sensor, Proximity sensor
Ambient light sensor, Proximity sensor
Ambient light sensor, Proximity sensor, Scratch-resistant glass, Polarizing filter
Qualcomm Snapdragon 800 MSM8974
Qualcomm Snapdragon 600 APQ8064T
Qualcomm Snapdragon 800 MSM8974
Quad-core, 2300 MHz, Krait 400
Quad-core, 1700 MHz, Krait 300
Quad-core, 2200 MHz, Krait 400
Adreno 330
Adreno 320
Adreno 330
Android (5.0 Lollipop, 4.4.4, 4.4, 4.3)
Android (4.4.2, 4.4, 4.3), HTC Sense UI
Windows Phone, 8.1, 8
25.00 hours
the

average

is 17 h (996 min)
28.00 hours
the

average

is 17 h (996 min)
27.40 hours
the

average

is 17 h (996 min)
22.0 days (528 hours)
the

average

is 20 days (472 h)
16.4 days (393 hours)
the

average

is 20 days (472 h)
32.0 days (768 hours)
the

average

is 20 days (472 h)
21.00 hours
the

average

is 19 h (1110 min)
25.00 hours
the

average

is 19 h (1110 min)
25.10 hours
the

average

is 19 h (1110 min)
17.5 days (420 hours)
the

average

is 0 days (0 h)
24.4 days (585 hours)
the

average

is 0 days (0 h)
15.8 days (380 hours)
the

average

is 0 days (0 h)
Single camera
Single camera
Single camera
13 MP (Autofocus, CMOS image sensor, BSI sensor)
4 MP (Autofocus, BSI sensor)
20 MP (OIS, Autofocus, BSI sensor)
Aperture size: F2.2; Focal length: 31 mm; Sensor size: 1/3.06"; Pixel size: 1.12 μm
Aperture size: F2.0; Focal length: 28 mm; Sensor size: 1/3"; Pixel size: 2 μm
Aperture size: F2.4; Focal length: 26 mm; Sensor size: 1/2.5"; Pixel size: 1.12 μm
3840x2160 (4K UHD) (30 fps), 1920x1080 (Full HD) (60 fps), 1280x720 (HD) (120 fps)
1920x1080 (Full HD) (30 fps), 1280x720 (HD) (60 fps)
3840x2160 (4K UHD) (30 fps), 1920x1080 (Full HD) (30 fps), 1280x720 (HD) (30 fps)
Continuous autofocus, Video light, EIS, Video calling
HDR, Continuous autofocus
OIS, Video light
2 MP
2.1 MP
1.2 MP
1920x1080 (Full HD) (30 fps)
1920x1080 (Full HD) (30 fps)
1280x720 (HD) (30 fps)
5.95 x 3.12 x 0.33 inches (151.2 x 79.2 x 8.3 mm)
6.48 x 3.25 x 0.41 inches (164.5 x 82.5 x 10.29 mm)
6.41 x 3.36 x 0.34 inches (162.8 x 85.4 x 8.7 mm)
5.93 oz (168.0 g)
the

average

is 6.5 oz (184 g)
7.65 oz (217.0 g)
the

average

is 6.5 oz (184 g)
7.37 oz (209.0 g)
the

average

is 6.5 oz (184 g)
Stylus, Interchangeable covers
Touch sensitive control keys