Nokia Lumia 2520 specs review: a savior, or the last of its kind?
17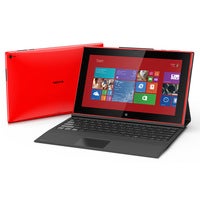 As of late, Windows RT hasn't been getting much love – neither manufacturers, nor buyers seem to express any interest in Microsoft's operating system. Pretty much anyone but the Redmond tech giant has stopped producing Windows RT based hardware due to low demand figures, which does not bode well for the underdog mobile platform and its future. Yet Windows RT tablets aren't yet ready to go extinct, it seems. In fact, today we witnessed the announcement of the Nokia Lumia 2520 – a high-grade, 10.1-inch Windows RT slate that is to be marketed at the same price point where the iPad and those premium Android tablets stand. Will this be what Windows RT needs to become relevant on a market so competitive, or will it just go unnoticed as the first-generation Microsoft Surface RT tablet? Well, perhaps we can go over what we know about the Lumia 2520 so far and see what conclusions we can arrive at.
Design
There's no shortage of ports and buttons around the tablet's sides. On the top side we have the power and volume keys, as well as the slots for the microSD and Micro SIM cards. The 3.5-millimeter headphone jack is positioned on the tablet's left side, while the full-sized USB 3.0 port and the HDMI output are on the right. And on the bottom side resides a port used to pair the Nokia Lumia 2520 with a keyboard – the Nokia Power Keyboard, as it is called, which adds a touch pad, two extra USB ports, up to 5 hours of battery life, all the while protecting the device from scratches when it is not in use.
Display
Kudos to Nokia for equipping the Lumia 2520 with a beautiful, 10.1-inch IPS touchscreen. It has a resolution of 1920 by 1080 pixels, which can't beat the iPad's Retina display, but still provides an adequate ppi for the needs of most tablet users. What's interesting is that the display on the Nokia Lumia 2520 should retain its legibility even when exposed to broad daylight. This is made possible by the panel's high brightness output of 650 nits and very low reflectivity of about 6%.
Interface and Software
8.1
. It is made to run on cheaper, energy-efficient ARM processors, such as the one inside Nokia's slate. The UI of the system is identical to what you'd see on a Windows 8.1 device – with a touchscreen-friendly Start Screen populated by live tiles providing various bits of information, such as news, weather updates, email notifications, and more. There's a traditional desktop environment available as well. Interacting with it on a touchscreen isn't as convenient, but it isn't impossible either.
This is where we have to clarify that Windows RT does not support legacy apps. The operating system will not run Windows software unless it is built specifically for Windows RT. In other words, the Windows Marketplace will be your only source for apps, should you choose to go with the Nokia Lumia 2520 tablet. And while their number is steadily growing, it will be less than what iOS or Android have to offer.
On the software side of things, there's a variant of Microsoft Office pre-loaded, allowing you to view, edit, and create documents in Word, Excel, Powerpoint, Powerpoint, or OneNote format. And that's pretty cool as not all tablets come with a full-fledged office suite like the Lumia 2520. Email is handled by Microsoft's versatile Outlook application. Nokia has thrown in a few apps of its own as well. One of them is Nokia Music, providing access to tons of audio for streaming online at no cost. We also see that Nokia's Storyteller and Video Director apps are on board. The former serves as a tool for organizing images that you've captured while the latter is, as the name implies, software for video editing. Nokia HERE Maps comes pre-loaded and what's great about it is the option to use its maps and navigation features offline.
Processor and Memory
Nokia isn't fooling around. The Lumia 2520 is powered by one of the most capable ARM-based SoCs out there, namely the Snapdragon 800, which is backed by 2GB of RAM. The CPU can reach speeds of up to 2.2GHz and should provide plenty of processing punch for any task, be it playing a heavy video game, watching a 1080p movie, or working on a PowerPoint presentation. However, the number of apps to take full advantage of all that power might be limited.
The 32GB of on-board storage on the Nokia Lumia 2520 seems plentiful, but the operating system occupies quite a lot of space. Therefore, the user-available storage will be less. Thankfully, there's a microSD card slot for memory expansion on the cheap. 7GB of complementary cloud-based storage is available as well, courtesy of SkyDrive.
Connectivity
Camera
The Lumia 2520's 6.7MP main camera seems to have been taken straight out of the
Nokia Lumia 720
. It has auto-focus and an aperture of f/1.9, but no LED light is present, so we wouldn't rely on it in low-light situations. Still, the camera should be usable as long as there's enough light around. Videos can be captured at 1080p resolution (30fps), which is neat. A 2MP front-facing camera can be seen right above the tablet's screen. With its wide viewing angles, it should be suitable for video chats over Skype, or a casual self portrait. We are glad to see that the Nokia Camera app is loaded onto the device, providing more control over the image than the stock camera app found on other Windows based tablets.
Battery Life
Expectations
Although not flawless, the Nokia Lumia 2520 is shaping up as a pretty decent 10.1-inch tablet. It has the design to stand out of the crowd and the specs to rival most of its competitors. But the tablet space has already grown pretty packed and there's little space for new contenders. That's why the Nokia Lumia 2520 might find itself struggling to gain market share, just like many other Windows RT tablets did before it.
Sure, there's a number of perks you get with the Nokia Lumia 2520, one of them being the built-in LTE radio. Then there's the full-sized USB 3.0 port, the pre-loaded Microsoft Office package, the audio library of Nokia Music, and HERE maps by Nokia with offline navigation. This, however, might not be enough to compensate for the underwhelming number of quality apps in the Windows RT catalog.
With a price tag of $500, the Nokia Lumia 2520 will cost about as much as a high-end Android tablet or a base 9.7-inch iPad model. While a release date has not been set yet, we're expecting it to be out in time for the holiday season.