Nokia Lumia 1520 and its alternatives
25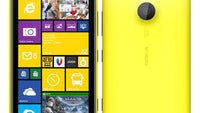 After all the leaks and speculation, the
Nokia Lumia 1520
is finally official, looking splendid in its colorful, polycarbonate outfit. Is anybody thinking of getting one? Because we surely wouldn't mind getting our hands on the company's phablet – after all, it sure has a lot to offer, including a gorgeous touchscreen, a super-fast processor, and a promising PureView camera.
But the Nokia Lumia 1520 isn't exactly standing in a league of its own. In fact, there's a number of alternatives one should consider before picking Nokia's phablet. Why would anyone prefer another phablet to Nokia's Lumia 1520? Well, the handset, priced at around $750 off-contract, is quite expensive no matter how you look at it. Also, let's not forget the fact that like other Lumia smartphones, the 1520 runs Windows Phone 8, which isn't as popular of a platform as Android, or at least not at this point in time. Then there's the kind of buyers who need something not quite as large and heavy. Or perhaps something with a fancier design, built of materials more premium than plastic.
So, for those who are into phablets, but don't feel like the Nokia Lumia 1520 is right for them, we've prepared a list of alternatives worthy of attention. Check it out below and let us know if any of these phablets might end up in your pocket instead of a Nokia Lumia 1520!