Nokia goes deep in the red in the second quarter, smartphone sales collapse to 16.7 million
73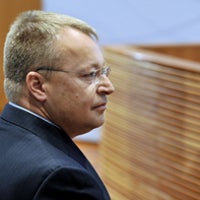 Nokia, the company which shaped the smartphone market back in 1996, swings deep in the red in the second quarter after
smartphone sales collapsed by 31% to 16.7 million units
with
operating loss
amounting to nearly
$692 million
(487 million euro). The company struggles to sell Symbian smartphones as the decline of smartphone sales amounted to the whopping 7.6 million in comparison to the 24.3 million smartphones sold in the first quarter. Nokia's CEO Stephen Elop has reportedly admitted that the results were
"clearly disappointing,
" while Nokia's official statement clarified that challenges
"manifested in a greater than expected way in Q2 2011."
This means that Apple's iPhone which triggered Nokia's decline back in 2007 and
Apple has become the biggest smartphone maker in the world
. Cupertino was thriving with sales of 20.3 million units for the quarter is
now selling more than Nokia smartphones
. Samsung, Nokia's other big rival, sold 13.6 million smartphones last quarter and might also outgrow the Finns in terms of smartphone sales. At the same time, the anticipated Nokia Windows Phone savior is coming up only as early as the end of the year.
Nokia's went into the red with a net loss of $521 million (368 million euro) compared to a net profit of $322 million (227 million euro) for the same period last year. Nokia's net sales decreased to
$13.19 billion
(9.275 billion euro) in the quarter, down from nearly $14.2 billion (10 billion euro) in Q2 last year. The company also posted negative earnings per share of -$0.14 (0.1 euro).
Analysts expected the Finnish company to post earnings of 3 cents per share with revenue standing at just above $13 billion. Two months ago, in May, Nokia has revised its earlier guidance on phone revenue saying that it won't be able to meet its target of more than some $8.7 billion (6.1 billion euro).
Back in February, Nokia shocked the industry when it announced that it's abandoning Symbian and is adopting Windows Phone as its main platform. Since then, the company's shares have halved in value with market share collapsing faster than that of any other company in the history of the industry.