New, safe Samsung Galaxy Note 7 units will feature green battery indicators
99+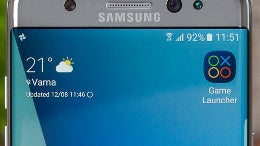 Later this month, after Samsung
delivers new Galaxy Note 7 units
(which don't pack
batteries that can explode
while charging), you'll be able to recognize the fault-free devices by looking at their battery indicator.
According to ZDNet, Samsung will make a small change to the Note 7 battery indicator icon - which you can usually see at the top right corner of the phone's UI. While the icon is white on old Note 7 units, the new, upcoming models are going to have green battery indicators, so you'll know they include batteries that aren't defective.
Samsung is already shipping new Galaxy Note 7 units to carriers and retailers, and customers should be able to get them starting Monday, September 19.
Before the
massive Note 7 recall
, Samsung shipped about 2.5 million units around the world, but it's said that only 400,000 of them were actually sold to end users. Nevertheless, Samsung recalled all 2.5 million devices, and ZDNet says that, by the end of next week, it will have enough new units to replace all the 400,000 phones purchased and returned (or about to be returned) by customers.
In order to prevent
further explosions
,
Samsung is rolling out a software update
to the Note 7 units currently in use, limiting the maximum battery charge to 60%. Even so, the company strongly advises everyone who purchased a Note 7 prior to the recall to return or exchange their device.