LG G6 starting price said to be $50 higher than G5 because of these leaked specs
25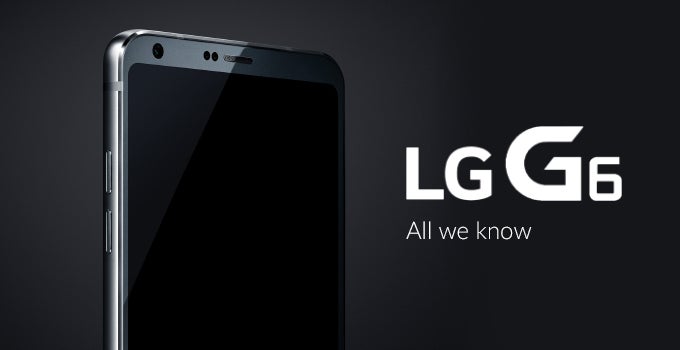 Korean media is awash in
LG G6
-specific rumors these days, and we are slowly getting confirmation on speculations that have been bandied about regarding LG's next big thing from the venerable "supply chain" insiders. The latest reports reiterate a glass sandwich chassis with a
sealed battery compartment
, which is a departure from the usual swappable battery design of yesteryear for LG. The reason cited, is that the G6 will be the first LG flagship with IP68 certification, letting it withstand submergence in up to five feet of water for up to half an hour.
The other rumor, for a 5.7" 1440x2880 pixels LCD panel is not a rumor anymore, as
LG itself said
that this screen with the
unorthodox 2:1 Univisium aspect ratio
will be the window to the G6's soul. The top and bottom bezels will allegedly be shrunk to take up only 4mm of space at the front in total, adding to the "all-screen" roster that will seemingly be a trend this year. The phone will apparently have a dual camera setup (duh) and a fingerprint scanner (double duh). The 32-bit audio DAC from the
V20
is also being planted to the G6 as well, claims the source.
An interesting twist is that LG has decided not to offer all features in all markets, but mix and match where it makes sense. A wireless charging coil, for instance, will be installed in the overseas LG G6 models, but a Magnetic Secure Transmission (MST) chip will be for domestic consumption only, as MST-processed mobile payments haven't really caught on apart from Samsung Pay which is ubiquitous in Korea. In fact, a
Samsung Pay Mini
app will be released in the Korean Play Store that will allow any Android phone to do these transactions. Korean customers, however, won't be getting the wireless charging models, as there is seemingly sparse usage of the option there.
With this feature mix strategy, LG is reportedly trying to keep the costs down, as the G6, with all these new features and premium design materials, is already with a starting price of W870,000 ~ W890,000, which is about $770, on its home turf. That is more expensive than the launch tag of the G5 there ($720), though arguably the phone is also introducing plenty of new features to the G-line as well. An LG analyst said that a $40-$50 higher price tag compared to the G5 won't be a problem, as the G6 is convincing enough, adding that both Samsung and Apple will be jacking up the price tags of their unorthodox
Galaxy S8
and
iPhone 8
editions this year as well. This statement might serve as a tangential proof to the rumors that the
S8 will command a higher price
than the
S7
at launch, but we'll have to wait two months to hear what it is. Fortunately, we won't have to wait as much for the G6, as we've already been invited to its unveiling February 26, on the cusp of the MWC expo in Barcelona.
source: ETNews (
1
),(
2
) (translated) &
CNET Korea
(translated)