LG: G6 to have unorthodox 1440 x 2880 pixels display, heat piping, and AI assistant
18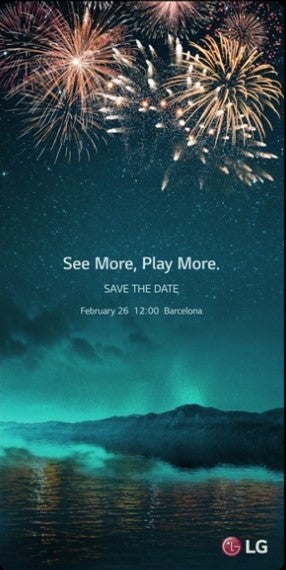 Together with the
invitation
for the
G6
unveiling on February 26th at 12pm Barcelona time, LG spilled out some tidbits about its upcoming flagship in today's press release. Just as rumored, the phone will arrive with the unorthodox 1440 x 2880 pixels 564ppi display that
LG recently bragged with
.
We say unorthodox, as it sports an 2:1 aspect ratio, instead of the widespread 16:9. That equals exactly the proposed Univisium universal film format that aims to unify future releases in the mathematical average of 65 mm 2.20:1 films and HD 1.78:1 video standards. That's not a bad idea, and is slowly getting traction, as the 2013 Netflix series "House of Cards" and the 2014 Amazon original show "Transparent," as well as last year's "Stranger Things" blockbuster of Netflix, were all presented in a 2:1 aspect ratio.
According to LG, this will allow more scenery to fit in the frame, and it exemplified this claim with the invite graphics, saying that the 18:9 ratio allowed for the fireworks to pop inside the image, instead of being left out. Moreover, the "See More, Play More" slogan you see on the invite apparently "
emphasizes that the next strategic smartphone has a variety of convenient viewing and enjoying features
." Given that these numbers work out to a 5.7" panel, we sincerely hope that LG has also figured out how to decrease the bezel area and increase the screen-to-body ratio, as a flagship with such a display diagonal would otherwise be a serious hit to the average size and pocketability of the category.
Other nuggets of info that LG discloses in the press release about the G6 invite is that it will be having
heat dissipation piping
inside, and will subject the phone to rigorous quality tests above and beyond what's required by the industry standards. While we have heard both of these claims before, they are undoubtedly a jab at Samsung, and its
Note 7
mishap. Last but not least, LG will apparently introduce some sort of enhanced AI assistant, as is the raging trend these days, so we can't wait to get our mitts on the G6 before the official February 26th unveiling, and have some hands-on impressions to share with you then.
Recommended Stories