HTC CEO Peter Chou says ITC ruling against the company is a mere "distraction"
58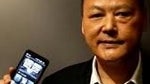 Despite seeing HTC
charged with infringing on two of Apple's patents
by the ITC, possibly
slowing down the express train called Android
, the company's CEO says that the whole affair is a mere "distraction". HTC isn't letting the ruling slow it down as the Wall Street Journal reported that third quarter revenue is expected to rise an amazing 80% year-over-year.
Analysts expect HTC to ship 13.5 million smartphones in the current quarter,
a whopping 98% increase from the prior year
. In the June quarter the company shipped 12.1 million smartphones while Industry leader Apple sold 20.3 million iPhones over the three months. HTC is also looking to expand its position in the Android tablet business. The report in the Journal said that Chou is "carefully assessing the tablet market".
Chou also said that HTC's recent purchase of graphics company S3 for $300 million would prove to be money well spent. While Chou didn't bring it up, Apple was recently found to have infringed on two of S3's patents. It could prove to be money well spent if HTC could use the
S3 patents as some sort of "hostage swap" with Apple
.
While the Taiwan based HTC is enjoying strong, rapid growth, in April the company lost its head of innovation Horace Luke. Luke had overseen the dramatic rise in HTC from a contract handset manufacturer churning out product for others, to become a major handset manufacturer itself. Luke-designed product will still be churned out by HTC until the end of Q1 next year. At that time, we will have to see if HTC can keep its edge when it comes to the design of its products which many consider to be among
the best in the industry
.
source:
WSJ
via
AppleInsider
Recommended Stories