Get your first peek at the second-gen Google Glass Enterprise Edition
2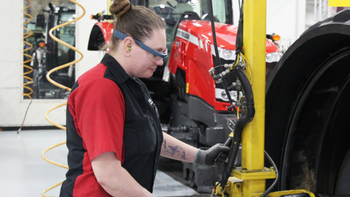 Google eventually 86'd its AR headsets only to bring them back in 2017 for businesses.
The Google Glass Enterprise Edition was born that year
, and while the company doesn't release numbers pertaining to the device, by all accounts the product has found a home in industrial settings. Back then, agricultural firm AGCO found that using Google Glass reduced the production time for some of its machinery by 25%. That is real productivity.
According to 9to5Google
, a second-generation version of the Google Glass Enterprise Edition (GG2) is being prepped, and a benchmark test on Geekbench revealed some of the upgraded specs. For example, a Snapdragon 710 Mobile Platform will power the next-gen version of the AR glasses, which will include an LTE modem chip, 3GB of RAM, support for 802.11ac Wi-Fi and Bluetooth 5.0. The on-device camera weighs in at 32MP, and can record 4K video at 30fps. Video can also be shot in 1080p at 120fps. One big change to the Google Glass Enterprise Edition brings a USB-C port to the back of the device, and Android 8 Oreo is pre-installed. Images of the updated spectacles have been leaked, and judging by the looks of these images, they were snapped by the FCC.
As for the Google Glass Enterprise Edition 2, there is no word on when the device will be officially announced by Google.