Google unveils "Project Glass" to the world
95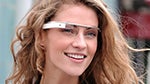 We've been hearing for some time now that Google was working on
real-life "Google Goggles"
deep in their secret Google X labs, and today Google has decided to unveil the project to the world. There's no product announcement yet, but Google did release several photographs of what the product "may look like" when it's ready for release. Presumably they don't want fashion divas harping on their glasses before they come up with a final design.
Google also made a nice POV video to show off how they envision their Android powered glasses working. Much of it looks plausible – Google Maps integration and navigation seems obvious, as does taking snapshots and sharing them on a social network. The ability to make video calls would be neat, although it's not clear what caller on the other end would see (they show the "user" sharing the view through his glasses, but what does the caller see before that?).
In a way this is also the public coming out party for Google[x] (as it is written on the Google+ page). Google[x] has been
reported on
in the past, but the company has refrained from commenting so far. Perhaps now that Google is outing their skunk works labs we will see more frequent updates from them on what is brewing in the land where Google develops shoot-for-the-moon projects.
If the video catches you fancy, check out the source link below, as the Project Glass team is actively soliciting feedback. If successful, we could be in for a whole new type of mobile device.
source:
Google
via
Droid-Life