Google CEO Schmidt now claims 200,000 Android handsets are activated daily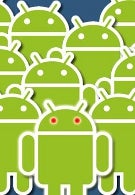 Back in June, we
reported
that Google VP Andy Rubin was claiming that 160,000 Android models a day were being activated. Since then, the figure has risen and continues to grow steadily higher. No less than the CEO of the Mountain View based firm, Eric Schmidt, has come forward to say that 200,000 activations are being made each and every day. That is a rate that works out to 73 million activations over a year. But even more impressive is the momentum behind the numbers. Back in May, the rate was 100,000 which means that Android sales have theoretically doubled over the last 3 months.
The strength of the platform has managed to overcome the launch of the iPhone 4 thanks to a number of strong releases like the Motorola DROID X (Verizon) and the EVO 4G (Sprint). Both models have been
impossible to find
at their respective carrier's retail stores at one time or another. Both operators have some more high profile Android models on the way with Big Red's launch of the Motorola DROID 2 expected sometime this month followed by the release of the Galaxy S derived Samsung Fascinate sometime in the near future. Sprint will soon be releasing its second 4G enabled handset, the Samsung Epic 4G which is a version of the QWERTY keyboard equipped Galaxy S Pro. AT&T and T-Mobile also have some tasty Android wares available with the recent launch of each carrier's Galaxy S variant, the Samsung Captivate and Samsung Vibrant respectively.
Because Android is an open source operating system, manufacturers pay nothing to Google for its use. But CEO Schmidt says that mobile advertising more than covers the cost of developing the OS. So for those of you worrying about how long Google could continue to support an open platform, don't fret. The guys at Mountain View have it all covered without requiring a bake sale.
Motorola DROID 2 A955 Preliminary Specifications
Samsung Epic 4G Specifications
|
Hands-on
Samsung Fascinate Specifications
|
Hands-on
Samsung Captivate Specifications
|
Review
Samsung Vibrant Specifications
|
Review
source:
GabeRivera
via
UnwiredView