UPDATED: Verizon stores (and on-line) already sold out of the Motorola DROID X on launch day?
57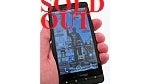 Sometimes too much hype is a bad thing, or not having enough inventory. Case in point with the
Motorola DROID X
. We've heard reports from some PhoneArena readers of long-lines at stores starting at 7am this morning with a few dozen people in line. Also, by noon-time stores are sold out and may not get any more units until their next scheduled weekly delivery date. We wanted to find out for ourselves, so we called a number of stores from Palm Beach to Miami Florida and could not find one that had any DROID X units left in stock. Most stores told us they got between 40-50 phones (smaller stores and Kiosk location only about 12 phones) and were sold out within a few hours of opening. Many said the best thing to do is to simply order on-line, or you can come into the store, try out the demo, and order it there with it being drop-shipped to your home the next day. So were you able to get the Motorola DROID X today from your local store or where they already sold out? Let us know in Comment section below.
Motorola DROID X MB810 Review
|
Specification
*
UPDATE
*
It now appears that the DROID X has sold out on-line too, with it now showing a shipping date of July 23rd.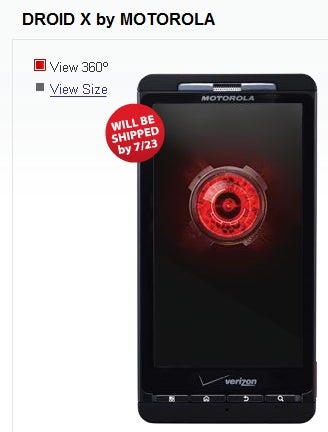 Here are some image and videos from different Verizon stores.