Galaxy S9 first camera comparison vs iPhone X, V30, S8
59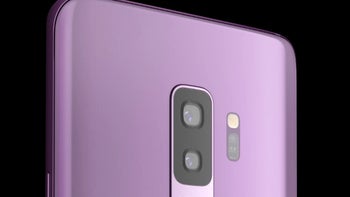 The Galaxy S9 and S9+ are finally official, and Samsung is making a big deal out of the new camera. It's easy to see why the camera is so important these days - not only is it used to take pictures and video, but some of Samsung's top new features also rely on it, like Bixby Vision and AR Emoji, for example. That said, here we'll be focusing on the S9 camera's primary function, and to get an even better understanding of how good it is, we're going to compare it against the best cameras out there: iPhone X, LG V30, and... Galaxy S8.
A word of caution:
Note that the Galaxy S9 unit we've used for this comparison is an early model with software that's possibly not completely final. It may happen that pictures taken with S9 retail units end up a bit different than what you'll see below.
SCENE 1: Busy bloggers are busy

You may think the job of the blogger is easy and fun - tinkering with new gadgets, sipping cocktails... Well, yes, it is! But still, there are times when you have to push through and get that coverage to your audience, no matter how long of a day you've had or how tired you are. Look at these guys here - true beasts on top of their game. And just like you, their audience will get to enjoy some rad Galaxy S9 content tonight.
But let us not digress. We're here to talk about the new Galaxy S9 camera. In this scene, we can see the GS9 defaulting to a less dynamic shot than its rivals. The S9 photo is more or less identical with that of the S8, so it seems there haven't been any significant changes in Samsung's post processing. The iPhone X photo is okay, but comes with somewhat duller colors, while the LG V30 is treating us to the best balance between dynamics and color reproduction. Let's move on!
SCENE 2: Got to trademark that smile
And this right here is the most famous smile in the whole tech blogosphere. Not only is it enchanting, it's also tricky for our smartphone cameras to reproduce perfectly. As you can see in the images below, all four handsets have a slightly different take on how this picture should look. What we can say as totally unbiased observers of this camera shoot-out, is that the Galaxy S9 and S8 happen to sweeten the skin colors a bit, making them warmer and more saturated than they need to be. The iPhone X this time does a much nicer job at this, although it's not without fault either, as it overexposes the white shirt of our model. Meanwhile, the V30 photo has very good depth and playfulness to it; however, it's also exaggerating the skin colors a bit, albeit in a pleasant way.
SCENE 3: A camera photograph
We often use the camera to photograph certain things, but when you start photographing the camera, that's when you know you've got to take a break. Anyway, we couldn't help it - just look at all of the wonderful detail on this thing! One of our earlier observations gets confirmed in this scene. The Galaxy S9 (and S8) generally don't like overexposing stuff. That is why in comparison, the iPhone X's photo looks more contrasty and vivid - it's boosted the contrast a little bit, in order to achieve a more impressive photo. We aren't sure which approach we prefer, as both seem a bit extreme. That's why it's good to have phones like the LG V30, which is so balanced, it's actually taken the best picture of the bunch here.
SCENE 4: Banana head

Switching to the front camera now, we've decided to take one of those "self photographs" everyone is talking about right now. It turned out we have a problem - due to the very wide lenses used on front cameras, the head of our model, who often happens to be mistaken for Ryan Gosling, appeared to be more elongated than it is in reality. In terms of a winner in this category, we can't really distinguish any one competitor here. All need to work on how they process selfie pictures, so all are equally good, or equally bad, depending on your mood.
And there you have it! As we mentioned in the beginning, don't take these Galaxy S9 pictures as completely representative, because it's possible that the software of the phone may not have been too final, meaning that pics from the actual units that hit store shelves may look a bit different. However, we'll know soon enough just how good of a camera phone the Galaxy S9 is very soon, as the handset is scheduled to be released on March 16. But until then, let us hear what you think about what you saw just know - do you think Samsung will manage to keep its leading camera position this year, or will it be overshadowed by its rivals? The comment section is all yours!