Huawei Mate 20 Pro vs iPhone XS Max vs Galaxy Note 9: NIGHT Camera Comparison!
30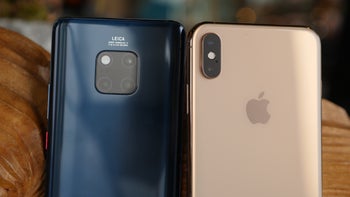 These days, you need more than just a regular camera comparison to tell how good a smartphone camera really is: what you really want to see is how good the phone cameras perform at night.
That's why we have wasted no time and shot a bunch of photos with three of the best night camera phones out there: the Huawei Mate 20 Pro vs the Apple iPhone XS Max vs the Samsung Galaxy Note 9.
Which one has the best camera for low-light, night photos?
You have a triple camera system on the Mate 20 Pro, with a 40MP f/1.8 main camera, a secondary 20MP f/2.2 ultra-wide, 16mm lens and a third, 8MP f/2.4 telephoto lens with OIS, while on the iPhone and Galaxy you have dual camera systems in a 12MP+12MP regular + telephoto configuration. At night, you want to be using the main cameras to have the best performance, and that's what we did. Take a look at the photos right below.
1. Monument Station
Even at night, London doesn't sleep and there were a bunch of people all around us as we framed this shot. Notice that there is a lot of lens flare on some of the pictures, we tried to avoid as much as we could, but it wasn't entirely possible. The Mate here shines with a brilliant photo that captures both the dark sky and the detail in the buildings, but the other two perform fairly well too.
2. The Tube
You see these 'Underground' signs all around London as the 'Tube' is the best mode of transportation in the bustling city. Notice the difference in color and dynamic range in these photographs.
3. The Shard at Night
The Shard is one of our favorite locations in London, rising tall above other buildings, you can see look at your from the little alley ways and this is one such scenery.
4. Tower Bridge at Dusk
The picturesque Tower Bridge becomes even more beautiful when the lights are on at night and we tried to capture this in this photograph.
5. City of London Architecture
Another dark scene and another challenging situation for the small sensor of a phone's camera. See which one did best below.
6. Coat of Arms
This colorful coat of arms was something that caught our attention as we wanted to see which camera does better in capturing the color and the detail here.
7. The Statue with the Dolphin
Finally, this playful statue looked so different when photographed on the phones' screens, so we included it as well.
Final Words
The Mate 20 Pro carries over the strong night performance from the P20 Pro and builds up on its foundation. You still see the familiar notification that asks you to hold the phone a bit longer at night so that it sharpens the photos, while all other phones capture a photo immediately. But those few seconds are worth it as you get a lot of light in otherwise extremely dark scenes.
The iPhone XS Max and Galaxy Note 9 are certainly not behind and sometimes do a better job, but it still seems like more often than not, it is the Huawei Mate 20 Pro that captures the most detailed and most impressive image at night.
What do you think? Which is your favorite camera of these three?