Pixel 3 vs iPhone XS vs Galaxy Note 9: Blind Camera Comparison Results
28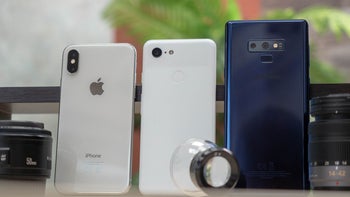 You can now read:

You have been hearing a lot about the best camera phones of the year, and when it comes to the very finest, three names pop up: the Google Pixel 3 series, the new iPhone XS and XR family, and the Samsung Galaxy series, best represented by the latest Note 9.
But which one of these takes the best photos?
We were as curious as everyone to find out and that's why we went out and shot a bunch of pictures with these phones.
But rather than tell you which phone shot which photo, we just presented all of these photos in a blind comparison. Now, it's time to unveil the results and see who did best.
Daylight Shot #1
Daylight Shot #2: By the sea
Daylight shot #3: Through the woods
Daylight shot #4: A walk in the park
Portrait Mode Tested
Night Shot #1: The Happy Bar
Night Shot #2: The University
Portrait Mode at Night
Day Selfie
Night Selfie
Final words
So that wraps up our blind comparison.
The iPhone won two rounds, the Note - also two, while the Pixel grabbed wins in a whopping six rounds.
Interestingly, the Pixel did not do as good as the iPhone or the Note during daytime, as those two phones split the wins for daylight shots, but it dominated when it came to low-light photography, and also did a great job for selfies.
At the end of the day, the Pixel 3 walks out as the big winner of this blind camera comparison, while the iPhone and the Note split the second place.
Were you surprised by these results? And did you end up voting for your personal favorite?